Eric Trump Wants Supreme Court to Intervene in Diamond & Silk's Social Media 'Censorship'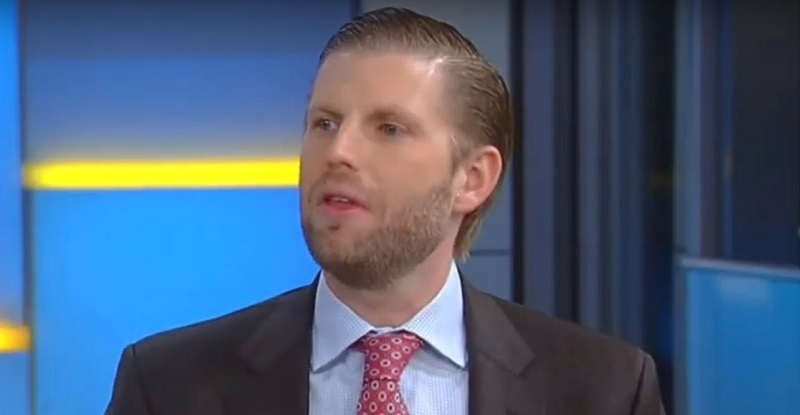 Presidential spawn Eric Trump is doing his part to advance the big conservative message of the week that social media companies are deliberately censoring conservatives.
Following on the heels of Devin Nunes' laughable Twitter lawsuit on Monday and the president's promise to "do something" about the issue in response to a question from a Daily Caller reporter on Tuesday, the younger Trump opened Wednesday by telling the crew of Fox & Friends that the Supreme Court should take up the pressing issue of YouTube taking down Diamond and Silk videos.
"Diamond and Silk, two of the nicest human beings in the world, getting kicked off YouTube on a daily basis. They post funny but yet benign videos," Trump ranted to the Fox & Friends host about the duo and superfans of the president, who also have a weekly show on Fox News' streaming service. Trump provided no evidence that YouTube is removing their videos daily, nor did he offer any explanations that YouTube might have given for doing so.
Asked by Steve Doocy how to fix the issue, Trump said, "I'd love to see it go to the Supreme Court, to tell you the truth." Hey, maybe the Nunes suit will get that far.
Trump added that social media companies "hide under the veil that we're private companies, we're private companies. You know what? You're no longer a private company when you're a monopoly. Facebook has 1.7, 1.8 billion users around the world. You're beyond a private company. You become a monopoly."
Trump went on to say that "you are governed by free speech," with no acknowledgement that the First Amendment is intended to keep government from telling individuals and private companies like YouTube what they cannot say. On the question of whether private companies should be required to spread whatever propaganda the president tells them to spread, the law is clearly on the side of the companies' right to say no.
As I noted yesterday, some Democrats have also recognized that Facebook is something of a monopoly and that breaking it up might be a necessary step. The difference here is that Democrats want to break up such monopolies partly because of their inability or unwillingness to safeguard customer privacy and the role their content plays in spreading disinformation that radicalizes people. That makes it an issue of the social good.
Conservatives like Eric Trump and his father, on the other hand, want to break up these companies because they think the companies are mean to them.
Watch the clip above, via Fox News.