Devin Nunes' Twitter Lawsuit Is Designed to Shut Down His Critics…and Ultimately Trump's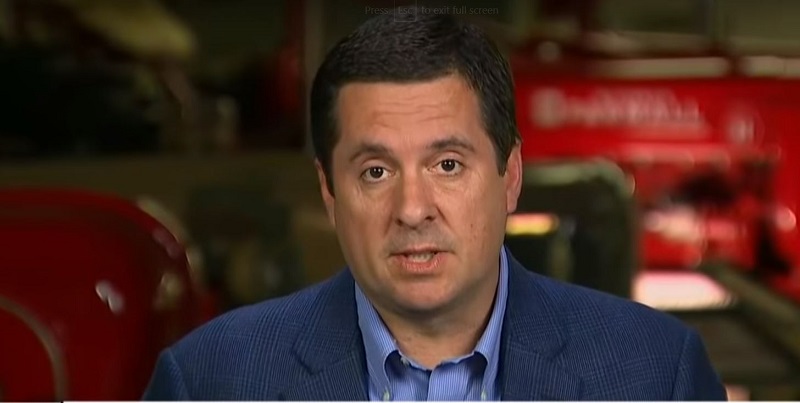 Rep. Devin Nunes's (R-CA) defamation lawsuit against Twitter and his somewhat incoherent defense of it to Sean Hannity on Monday night have given political junkies a good laugh. But once people finish laughing, there is a dark intention here that should concern us.
First to the suit, which you can read here. Nunes is suing Twitter and three accounts on its service, one run by Republican operative Liz Mair and two other anonymous accounts called Devin Nunes' Mom and Devin Nunes' Cow (the Nunes family are longtime dairy farmers). Nunes accuses all three of repeatedly defaming him by spreading "fake news." He also accuses Twitter of engaging in "shadow-banning," a longtime conspiracy theory on the right theorizing that the service purposely suppresses tweets from conservative figures in order to keep their ideas from being widely shared.
The whole thing reads like nonsense, especially when Nunes gets mad at the anonymous account posing as his mother for suggesting he'd have more money for his 2018 re-election campaign if he hadn't spent so much patronizing the Spearmint Rhino, a notorious Las Vegas strip club. And one would think a Republican congressman on the House Intelligence Committee would have better things to do with his time.
But step back and look at the wider picture, and Nunes's lawsuit begins to look a lot like the Peter Thiel lawsuit that bankrupted and shut down Gawker.
Recall that the billionaire Thiel financed a suit by wrestling star Hulk Hogan over Gawker's release of a sex tape Hogan had made with the wife of a friend. (Ironically that friend was Bubba the Love Sponge, who played a role in the recent trouble Tucker Carlson found himself in over comments he'd made on Bubba's radio show a decade ago.) Thiel was motivated by anger at Gawker for outing him as a gay man some years before. So he threw his unlimited financial resources behind Hogan, knowing that Gawker could not match him, and drove the suit that eventually drove the site into bankruptcy.
With the Nunes suit, like with Thiel and Gawker, we have a lawsuit filed on behalf of a powerful person obviously intended to shut down political opponents with much fewer resources, as noted by lawyer and commentator Susan Hennessey:
This contains a lot of funny stuff. But what it actually is is a politician attempting to abuse the judicial process in order to scare people out of criticizing him by proving that he can cost them a lot in legal fees. https://t.co/kRUutGrJQl

— Susan Hennessey (@Susan_Hennessey) March 19, 2019
There is also the question of whether Nunes is financing the suit himself. He is not personally wealthy, and his family's dairy operation does not seem to be–pardon the pun–a cash cow. Twitter would presumably have more financial resources to fight off a nuisance suit that asks for $250 million in compensatory and punitive damages. Unless Nunes has a Thiel-level backer.
It also appears that Nunes and his lawyer let Fox News have a copy of the lawsuit so he could publicize it on the network before they bothered to file it:
Just got off the phone w/ deputy clerk in Henrico. She says that Nunes' lawyer Steven Biss filed the lawsuit this morning, and that it hasn't even been completely processed in the system. There is no overnight filing or e-filing allowed so Fox was running with an unfiled doc.

— Ryan Mac (@RMac18) March 19, 2019
This lawsuit is obviously an escalation in the conservative war against what right-wingers have long been sure is a bias against them on social media sites. And by airing grievances on Fox, Nunes ensured that the issue would get on the radar of the network's number-one fan. It seems clear the suit is designed less as a serious legal challenge and more to chill the speech of Trump opponents by letting them know the full force of billionaires and the government will bankrupt them if they speak out.