US Amb. to New Zealand Scott Brown Dodges When Asked About Trump Downplaying White Nationalism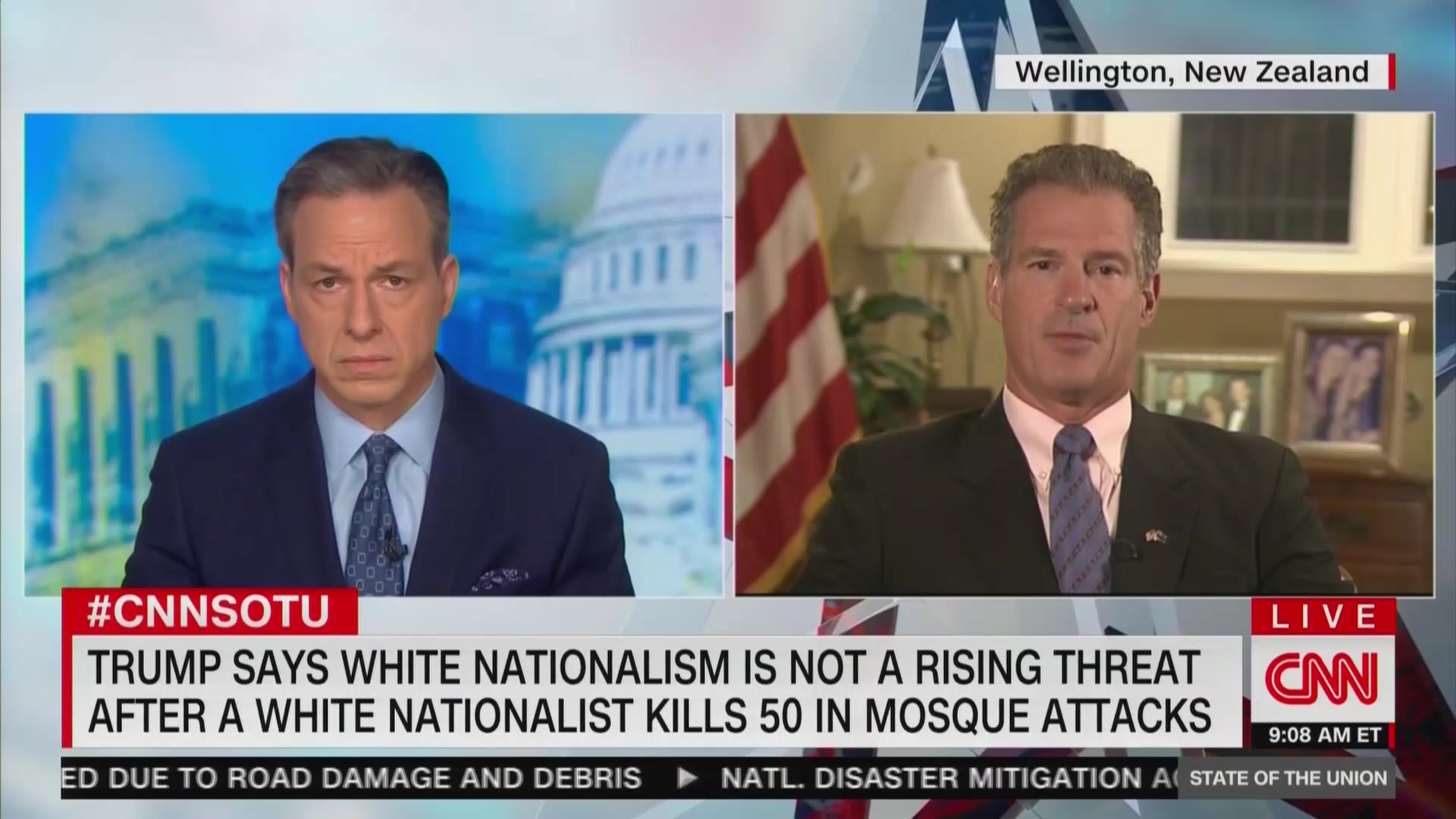 U.S. Ambassador to New Zealand Scott Brown sidestepped questions on President Trump's assertion that white nationalism is "not really" a rising threat, refusing to tell CNN's Jake Tapper Sunday morning whether or not he agreed with the president's assessment in the wake of the deadly New Zealand mosque attacks.
Speaking to White House reporters hours after a white supremacist gunned down dozens of Muslims in Christchurch, Trump said that "it's a small group of people that have very, very serious problems" when asked if white nationalists were a growing global threat. The president also insisted that he had not seen the suspect's manifesto, which named him as a symbol of "white identity."
Appearing on State of the Union, Brown said that he hadn't yet spoken directly with the president about the massacre, despite the attack taking place more than two days ago. Asked whether he'd like the president to offer an explicit message of support to the Muslim community, the former Massachusetts senator avoided the question, instead insisting that he had personally done it a representative of the president.
Referencing the president's downplaying of white nationalism as a rising threat, Tapper noted that the New Zealand prime minister simply said that she didn't agree with Trump. "
Do you agree with the prime minister or with President Trump?" Tapper asked.
"Listen, I think they have their own opinions, obviously. I know what's happening here. And there seems to have been a person who had those types of tendencies and he went out and murdered — systematically murdered innocent Muslim women, children, obviously, and men, and that's unacceptable," Brown responded.
Repeating that he's the president's representative and that he personally doesn't condone racism, the ambassador referred Tapper back to the president and said that he's "not focused on it right now."
"But do you think it's on the rise?" Tapper pushed back.
"I haven't seen — Jake, I've been here for almost two years," Brown sputtered. "I haven't seen it here. That's why it's a little bit I am trying to come up with words. I wish I could come up with words as to how I and others feel here."
The CNN host then shifted to the shooter citing Trump in his manifesto, asking Brown what he made of the suspect calling Trump a symbol of white identity.
"I don't give any credibility to the ramblings of someone rotten to the core and, clearly, is an extremist of the worst kind who could walk into two mosques and without any care whatsoever kill people," Brown replied. "I don't give any credibility to it."
Watch the clip above, via CNN.