CNN Guest: New Zealand Shooter's Racist Ideology 'Has Been Mainstreamed By Republican Elected Officials'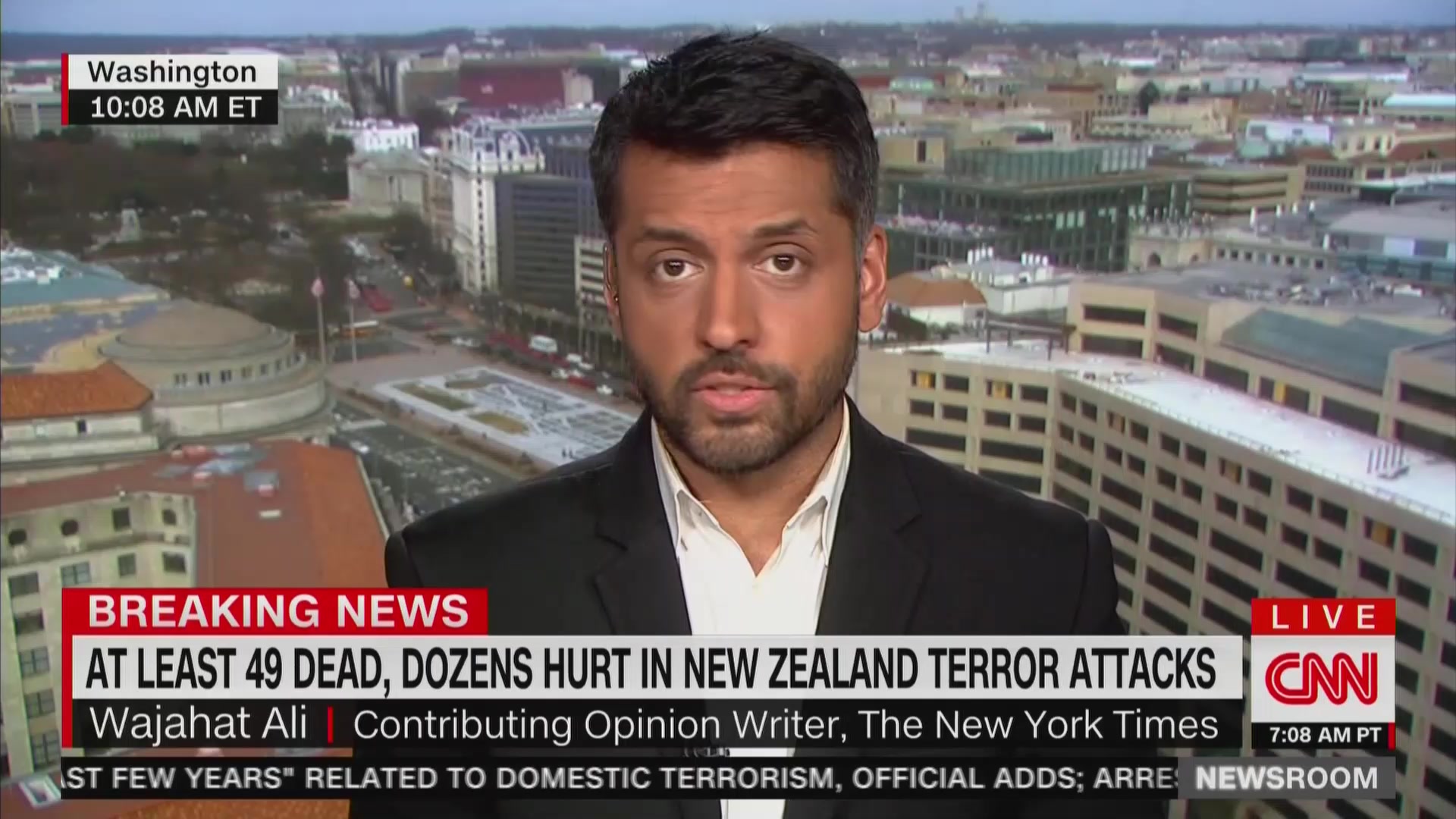 The Australian-born suspect who shot dozens of Muslim worshipers in two New Zealand mosques, killing at least 49 of them, published a 74-page manifesto in which he praised Norwegian white supremacist Anders Breivik and President Trump. The main thrust of the shooter's dossier was his objection to immigration and multiculturalism and his belief that white European society is being destroyed.
Discussing the shooter's right-wing extremism and racist ideology Friday morning on CNN, New York Times op-ed columnist Wajahat Ali asserted that there one can "connect the dots" between the shooter and the ideology of GOP elected officials.
Asked by co-host Jim Sciutto if there's evidence that more and more people are being inspired by far-right extremism and white supremacy, Ali explained that we are witnessing what could be called the "death march of white supremacy," noting that there are groups around the world who believe in the "white genocide" conspiracy theory. He went on to highlight Breivek's massacre and the Quebec shooting from two years ago as examples of extremists taking action against Muslims due to that shared fear.
"This ideology, this conspiracy theory has been mainstreamed, being bold here, and you can connect the dots," Ali stated. "This has been mainstreamed by Republican elected officials such as Congressman Steve King, who has sworn by the replacement theory and has tweeted about it. We cannot replace or civilization with their babies. Right?"
The Times writer further stated that during the 2018 midterm election Trump promoted antisemitic conspiracies revolving around liberal Jewish financier George Soros and fearmongered about migrant caravans "invading" the United States, noting that the same language can be found in the shooter's manifesto.
"There's a reason why the number one domestic terror threat in America according to the FBI are these white supremacists, number one domestic terror threat in the number of plots and call it what it is," he added. "An act of domestic terrorism making all our communities unsafe. Not the first time a mosque is a site of a murder."
Watch the clip above, via CNN.