Fox & Friends Agree With Elizabeth Warren On Tech Companies In Surprisingly Positive Segment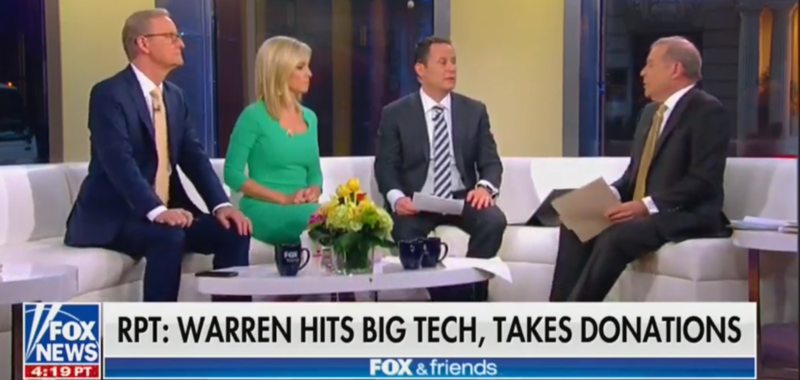 Fox & Friends hosts found themselves agreeing with Democratic Senator Elizabeth Warren Wednesday morning in a segment about breaking up big tech companies. Warren has proposed breaking up Google, Facebook and Amazon, an idea that found unexpected support on the Fox & Friends couch.
The segment began in typical Fox & Friends fashion with a clip of Warren's comments and looked like it would be just an ordinary segment attacking the Democratic presidential hopeful. However, what followed was a surprisingly measured conversation that saw host Brian Kilmeade and Fox Business commentator Stuart Varney broadly agree with Warren.
Steve Doocy began by pointing out that Facebook, Amazon and Google employees have donated to Elizabeth Warren and tried to show that this was hypocritical, but Varney was more critical of those who'd donated than Warren herself. The segment started out looking like a hit job, but ended up being a mature discussion.
"[T]he employees of Facebook, Google and Amazon are heavily left-wing and support the politics of Elizabeth Warren if not necessarily her intention to break up Facebook, Amazon and Google," Varney said. "But I think that the $2,700 which she received from Sheryl Sandberg, number two at Facebook, and she got that money just in September, that was a lousy investment on the part of Sheryl Sandberg, wasn't it? Because here you're giving money to a politician who wants to break up your company."
"But the issue is somewhat going across party lines," Brian Kilmeade said. "I find it very interesting Rupert Murdoch weighed in yesterday, and says Google – breaking up Google, not a bad idea. And Ted Cruz came out and said breaking up Facebook, I agree with Elizabeth Warren on that. This is kind of an interesting issue, isn't it?"
Rupert Murdoch is the Australian billionaire who owns Fox News. It's no surprise that his opinion might inform thinking on Fox & Friends.
Varney explained that breaking up the big tech companies might have detrimental economic effects, but went on to criticize those same companies.
"The other side of the coin is, and this is my argument – they've got too much power over us as individuals," Varney said. "Facebook and Google know absolutely everything about you. Absolutely everything about you and another couple of billion people around the world. That power is dangerous. What will a future owner of Facebook or the runner of Facebook, what will they do with that power? The opportunity is there to cause grave political mischief. I mean, if you want to control of society, having information about every single individual, like they do in China, that's a dangerous situation"
Steve Doocy made the strongest attack on Elizabeth Warren, while his Fox News colleagues appeared to agree with her.
"She is not suggesting break them up and your privacy will be better saved. It's just it's that popular thing to do right now," Doocy said.
Watch the video above, via Fox News.