Fox News Guest Predicts Trump Will Be Re-Elected Without Knowing Who The Democratic Candidate Is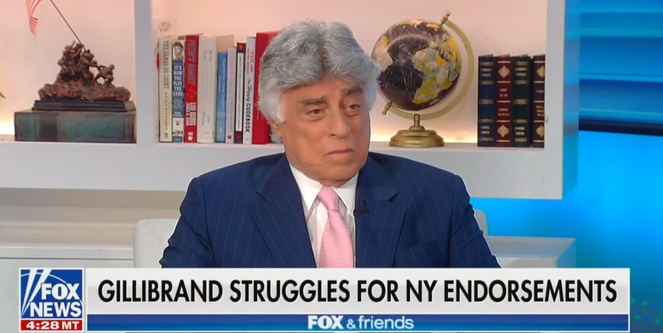 Fox News guests have taken to predicting the outcome of the next presidential election in recent days, with President Donald Trump always winning against his Democratic opponent. This trend continued on Saturday as a guest on Fox & Friends Saturday called the election for Trump despite not knowing who the Democratic candidate will be.
Andrew Stein was invited to talk about Senator Kirsten Gillibrand's bid for the White House, which has not attracted as much attention as some others. Stein, who is a Democrat and served as President of New York City Council, accused the party of going too far to the left.
Stein began by attacking Gillibrand, who is a Democratic senator from his own state.
"I think Kirsten Gillibrand, to some extent, is a little bit of a fraud," Stein said. "I hate to say that but, you know, she is out there as the champion of women. And if you look at her background, there are a few issues, health issues, that have hurt women more than excessive smoking. And if you check the record, she was the top lawyer defending the the tobacco industry when she worked at the law firm.
"And I don't think she has done anything. So, you know, I think her lack of support is the fact that I don't think her record is very impressive."
Host Pete Hegseth asked about Gillibrand's moderate credentials. There are several self-styled moderates vying for the Democratic presidential nomination, in contrast to more left-leaning contenders. Stein echoed Fox News talking points about how the Democratic Party is becoming more left wing and less electable.
"Well, as I said, I think she hasn't really distinguished herself. She hasn't really done anything. Everybody in the Democratic Party is trying to move as far as left as possible, which is why President Trump is going to win because he's going to be running against, you know, whoever it is going to be far, far to the left. And Gillibrand  -she's moving all the way to the left but her record doesn't support that."
Stein is just the latest Fox News guest to offer the expert opinion that Trump will be re-elected, without having any idea who the Democratic candidate will be. Instead, Fox News continues to push the narrative that any Democrat will be too far left and out of touch.
Watch the video above, via Fox News.