GOP Congressman Tells Fox News: Democrats Want Crappy Healthcare Plans For Everybody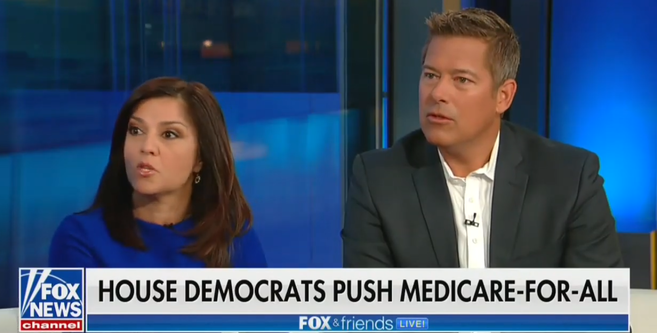 Republican Congressman Sean Duffy appeared on Fox & Friends Friday morning to claim that Democrats will make American's healthcare worse. He was joined by his wife, Fox News personality Rachel Campos-Duffy, who also shared her thoughts on Medicare for all.
Fox & Friends host Steve Doocy asked Duffy about Medicare for all, which several Democratic presidential hopefuls have endorsed.
"Listen, this is horrible for the country," Duffy said. "As Republicans, we talk about the cost of healthcare. This is a $30 trillion bill. Cost doesn't work anymore. People are OK spending a lot of money. It's dangerous."
"It's not their money. They don't care," Doocy added.
"Talk about taking healthcare away from Americans," Duffy said. "Remember, If you like your doctor you can keep your doctor? If you like your plan, can you keep your plan? This Medicare for all is healthcare for none. What happens is, if you have your healthcare plan through your union, you're  a welder, you're a teacher and have healthcare plan through teacher plan. Gone."
"You have a Fox News plan, gone."
"Private insurance company, gone," Doocy said.
"There is zero private insurance," Duffy said. "And so if you have Medicaid in your state, in Wisconsin we have BadgerCare it, would be a watered down BadgerCare. So instead of shooting for the stars and having better plans for people, improving the plans and the coverage, they go to the lowest common denominator and they're crappy plans for everybody but it's the same."
There is no indication that Democrats plan to give the worst possible healthcare plans under a system of Medicare for all. Duffy appears to be adapting talking points used to inaccurately criticize socialist policies.
Ainsley Earhardt then asked Rachel Campos-Duffy about her views.
"What it really comes down to is Americans are still Americans," Campos-Duffy said. "We're not socialists, we're not communists. We like choice and we like to have choice in healthcare especially because it is so personal, it is so important to everybody, especially those of us with kids or elderly parents. So I think Sean's absolutely right. I think the Republicans can't talk about this in terms of money. Although obviously that is a huge factor in this. They have to talk about it in terms of what's important to people."
You can watch the video above, via Fox News.