Rick Santorum Blasts Trump For Defending Kim Over Otto Warmbier: 'This Is Reprehensible!'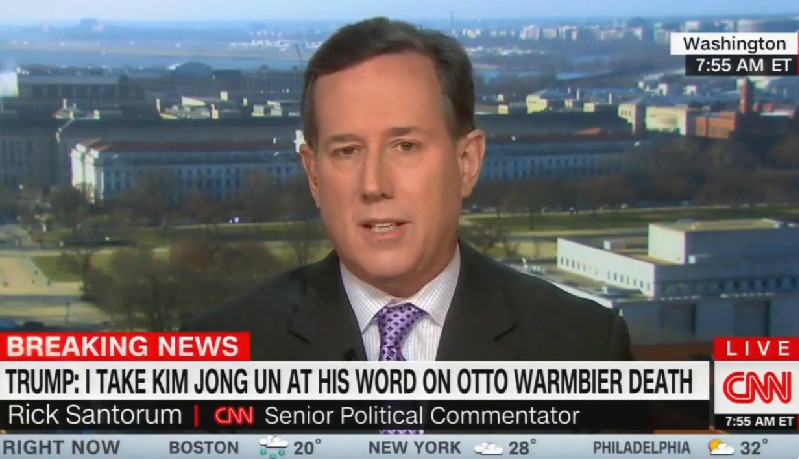 A day after defending President Trump's habit of lying all the time about Russia, CNN political commentator Rick Santorum found himself unable to offer up any kind of defense for Trump providing cover to a brutal dictator over the torture and death of an American student imprisoned by the oppressive regime.
During a Thursday morning Hanoi press conference after North Korea and the United States were unable to come to a deal at their second summit, Trump defended North Korean leader Kim Jong Un over the death of American college student Otto Warmbier, saying Kim "feels badly about it."
"I don't believe he would have allowed that to happen," the president declared. "It just wasn't to his advantage to allow that to happen."
Trump on Kim Jong-un and the death of Otto Warmbier: "I don't believe he knew about it… He knew the case very well but he knew it later and you got a lot of people. Big Country. A lot of people… He tells me that he didn't know about it and I will take him at his word." pic.twitter.com/vmn95gOR5a

— Contemptor (@TheContemptor) February 28, 2019
"This is the conundrum of Donald Trump for many of us who like his policies and don't like a lot of things he does and says," Santorum said Thursday morning on CNN's New Day when asked about the remarks. "What he did in Hanoi was the right thing to do. He walked away from a bad deal."
Adding that it was a "wonderful moment in his presidency" that Trump bailed on the much-hyped second summit, Santorum then took aim at the president for once again siding with an autocratic leader.
"This is reprehensible what he just did," the former Pennsylvania senator stated. "He gave cover, as you said, to a leader who knew very well what was going on with Otto Warmbier. I don't understand why the president does this. I am disappointed he did it, to say the least."
Watch the clip above, via CNN.