Chris Christie Sticks the Shiv In Javanka Over Kushner Security Clearance: This Is 'Very Disturbing'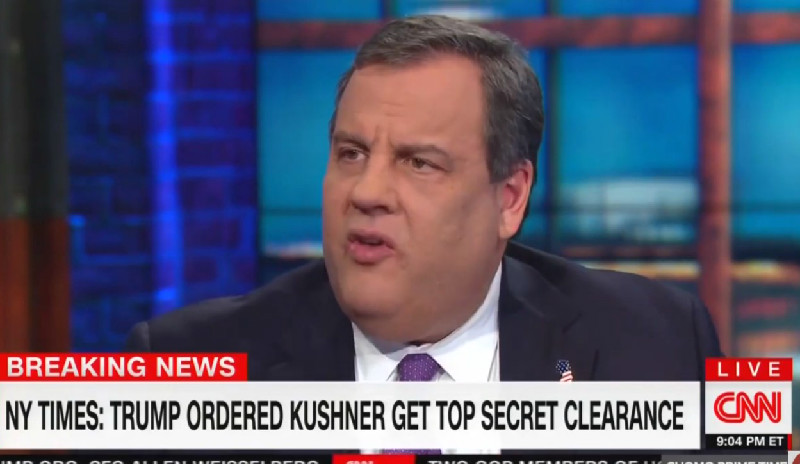 Continuing his bad blood with White House senior adviser and presidential son-in-law Jared Kushner, former New Jersey Governor Chris Christie said Thursday evening that a bombshell report on President Trump ordering intelligence officials to give Kushner a top-secret security clearance revealed why family members shouldn't be given White House jobs.
The New York Times reported on Thursday that former White House Chief of Staff John Kelly was "so troubled" by the president's decision to overrule concerns that Kushner shouldn't receive the clearance that he wrote a contemporaneous memo at the time stating he was "ordered" to give Kushner the clearance. Hours after the story dropped, Christie appeared on CNN to discuss.
Speaking to CNN anchor Chris Cuomo, the one-time Trump transition team chief said that "this is the biggest problem with having family in official positions in the White House because it's much harder to be objective."
Wondering aloud what does the president do when his son-in-law "wants that top-security clearance," Christie noted that the Times report showed that Kushner and his wife Ivanka Trump were upset that Kelly took the clearances away due to objections by the FBI and CIA. Christie went on to note that when the president overruled the decision, there was such concern that Kelly wrote his memo.
"I have to tell you something as having been a governor, I never had a staff member write a contemporaneous memo about one of my decisions," he declared.
The two then talked about Ivanka's ABC News interview earlier this month, which Christie observed put the presidential daughter and White House staffer in a tough spot.
"The bad part, too, is Ivanka went on ABC and said directly that her father had nothing to do with her clearance or her husband's clearance,' he stated as Cuomo pointed out that Ivanka said it "right to the camera."
Christie highlighted that Kushner's lawyer Abbe Lowell commented on the Times story and essentially said that they would only affirm that Kushner's security clearance was handled in regular process and with no pressure from anyone through sometime last year.
"Boiled down, he is saying to them, this is what I was told at the time and I communicated it to you but he wouldn't warranty it any further," Christie asserted. "Those are things that should be very disturbing to people and again, Chris, it goes back to the familial relationship. For any other staff member, the president would say listen I'm not getting involved."
Watch the clip above, via CNN.