Morning Joe: Do Republicans Think It's Cool Somebody Was Plotting To Kill Nancy Pelosi?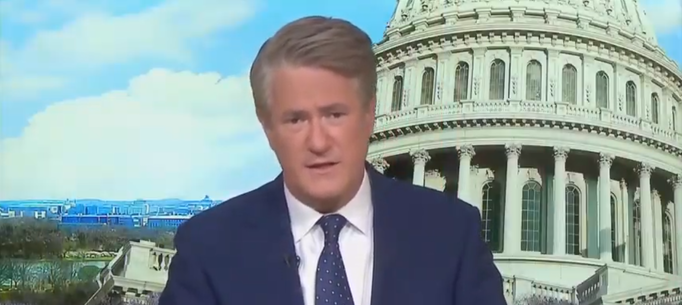 Morning Joe's Joe Scarborough blasted Republicans Friday morning for their silence about a domestic terror plot to kill senior Democrats. A Coast Guard officer planned attacks on Democrats, including Speaker Nancy Pelosi and presidential hopefuls, but so far Republicans have said little about it.
Scarborough was speaking to guest Donnie Deutsch and the chyron read 'Trump silent on plot to kill critics.'
"Donnie, look at the bottom of the screen. Look at the headline. 'Trump silent on plot to kill critics.' Let me say it again. Donald Trump silent on plot to kill critics," Scarborough said.
"And I will say, I will follow up with Susan Del Percio. Hey, Mitt Romney, you think it's a cool idea that somebody is trying to kill Nancy Pelosi, trying to kill Chuck Schumer? You work with Chuck Schumer. You think you should condemn that? You think you should condemn that plot? Hey Lindsey Graham, you run the Judiciary Committee, you think it's cool, you think you might want to check with the Justice Department and see why?"
"Oddly enough, they're silent. They're silent about this unbelievable uncovering of a plot to kill half of the Democratic field that's running against Donald Trump, kill the top Democrat in the House, kill the top Democrat in the Senate, kill one of the top Democrats investigating Donald Trump from a coast guard lieutenant who had been planning domestic terrorism," he said.
"Not a word from Trump, not a word from Mitch McConnell, not a word from Kevin McCarthy, not a word from the Justice Department. That is pathetic. And, by the way, Donnie, you know Trump. Does he no what's he's doing? Does he know what he's doing here, what he's encouraging by remaining silent?"
"Guys, I think we're a little hard on Trump because when they're are real threats, he does come out, just Monday, Alec Baldwin -I mean, Saturday Night Live, that was pretty, pretty spicy stuff going after him," Deutsch joked. "And Donald was very, very up front to say that should be looked into."
Watch the video above, via MSNBC.