Hannity Tells Lara Logan 'I Hope My Bosses at Fox Find a Place For You'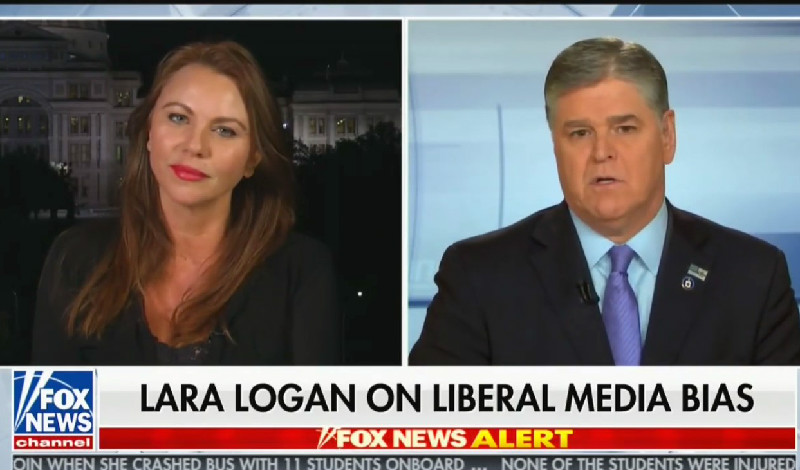 In the wake of an interview in which she said the "media everywhere is mostly liberal" and praised Breitbart and Fox News, former CBS News correspondent Lara Logan has been the toast of conservative media. Therefore, it wasn't entirely shocking to see her booked for a Hannity interview to be feted explain her remarks.
It also appears her appearance may have been a job interview. At least, that's the way Fox News host Sean Hannity saw it.
Towards the end of the Wednesday evening segment, which featured both Hannity and Logan trashing other media reporters and expressing admiration for each other, the Fox News primetime star brought up Logan's family, telling the ex-CBSer that her husband is an "American hero." Noting that they are raising kids, Hannity then tossed this out there:
"I mean this sincerely, I hope my bosses at Fox find a place for you. I know you want to still do great work, and independent. I think it would be a service if you did. I hope that you're telling truth does not end in career suicide for you. We need the fair and honest investigative voices. The people that do look for the sources."
Logan seemed a bit taken aback at the suggestion, pointing out that she had heard "one of your paid people on Fox" saying that her podcast interview that drew so much attention "sounds like a job interview." Adding that folks were putting words into her mouth over that interview, Logan stated that she didn't want to "fall back into dishonesty."
"And by the way, it's not a job interview, right?" Logan asked. "I don't know if Fox would want to hire me. Nobody is going to own me."
Apparently pressed for time, Hannity quickly ended the segment, as it jumped right into commercial with that.
Watch the clip above, via Fox News.