Watch: Fox & Friends Hosts Argue About Whether A DUI Is A Crime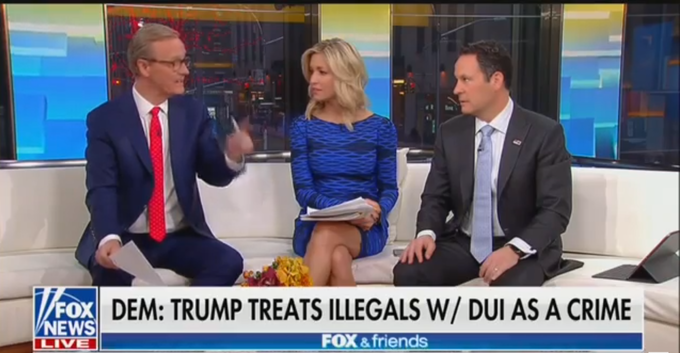 Fox News' flagship morning show had some trouble on Wednesday as its regular hosts couldn't agree on a simple matter of law. Fox & Friends hosts Steve Doocy and Brian Kilmeade argued about whether a DUI (Driving Under the Influence) was illegal or not, in a segment aimed at attacking undocumented immigrants.
The Fox personalities were covering a story about Democratic Senator Bob Menendez. Menendez had criticized President Donald Trump for treating undocumented immigrants as criminals if they have DUIs. Menendez is from New Jersey, where a DUI is a traffic offense for which a person may be jailed.
This caused confusion for Brian Kilmeade and Ainsley Earhardt, but Doocy was well-informed about the situation. He lives in New Jersey.
"What is wrong with the president? Why we do this?" Kilmeade asked mockingly following a clip of Menendez talking about DUIs.
"DUIs kill innocent people. That is a crime. That's a crime if you are illegal or legal," Earhardt said. Then Doocy jumped in and spoiled the discussion.
"But he's right. In the state of New Jersey, it is not a criminal offense," Doocy said. "Driving drunk, DUI is not a criminal offense in New Jersey and he is from New Jersey. That's right. Wisconsin and New Jersey."
"What? Wait a minute," Earhardt said. "You can drive drunk and it's legal?"
"In New Jersey it is a traffic offense."
"Well, it's a federal crime," Kilmeade said.
"No, it's not," Doocy corrected him.
"To drive drunk?" Kilmeade said incredulously.
"It's a misdemeanour," Earhardt said, inaccurately.
"It is a traffic offense in New Jersey but the larger point is he was talking about ice beds. That was the question. So, you know, he's talking about — he's trying to criminalize everybody in the country illegally and there have been a spate of those. You go outside of New Jersey and it's a criminal offense," Doocy said, trying to redirect the conversation back to immigration.
"So let me get this straight. He wants illegals with DUIs? Is that what he's saying?" Earhardt said, mischaracterizing what Mendendez said.
Kilmeade and Earhardt then discussed hypothetical deaths from drunk driving, which are not the same as having a DUI.
"So the question is criminality, you know, if you're in the country illegally, that's breaking the law," Doocy said. "But he's making the point using the New Jersey standard which has got a lot of people saying what is that about?"
Watch the video above, via Fox News