Stephanie Ruhle Blasts MSNBC Colleague Over 'False Headline': 'Hugh Hewitt, Shame On You'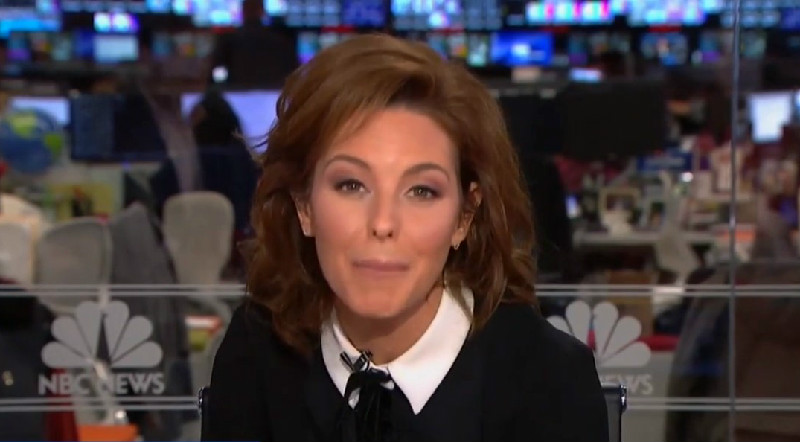 MSNBC host Stephanie Ruhle chastised conservative talk radio host Hugh Hewitt over how he framed comments she made during an interview on his show Wednesday morning, claiming her remarks were made in jest and that he was essentially spreading fake news.
Hewitt, who is also an MSNBC contributor and briefly hosted a Saturday morning news show on the network, talked about a potential Micheal Bloomberg presidential run with Ruhle on his radio program. Ruhle noted that she worked for the billionaire for five years at Bloomberg TV, praised his time as New York City mayor, and predicted that he'd run for president.
"So Stephanie, if he wins and he's the president, will you go be his press secretary?" Hewitt asked at the end of the segment.
"I would definitely be open to it," Ruhle responded.
Following the interview, Hewitt tweeted out a link to the transcript and audio clip, adding that Ruhle is "open to being Press Secretary" if Bloomberg wins.
Audio/transcript: @SRuhle thinks Michael Bloomberg is going to join the Democratic field, and if he wins…well, she's open to being Press Secretary: https://t.co/Ji1E63iDGZ

— Hugh Hewitt (@hughhewitt) February 13, 2019
While hosting her own MSNBC show later in the day, Ruhle took a moment to address her comments and offer some clarification. Claiming she "jokingly" said she was open to anything, Ruhle complained about seeing reports that she was up for the job.
"That's absurd, and as a private citizen, if any sitting president called me for a meeting on any job, I would obviously take that meeting," she asserted.
"Hugh Hewitt, shame on you. This is a false headline," Ruhle concluded.
We'll see how Hewitt responds to these charges in subsequent appearances on the network.
Watch the clip above, via MSNBC.