Historian Says Tucker Carlson Called Him a 'F*cking Moron' During Unaired Fox News Interview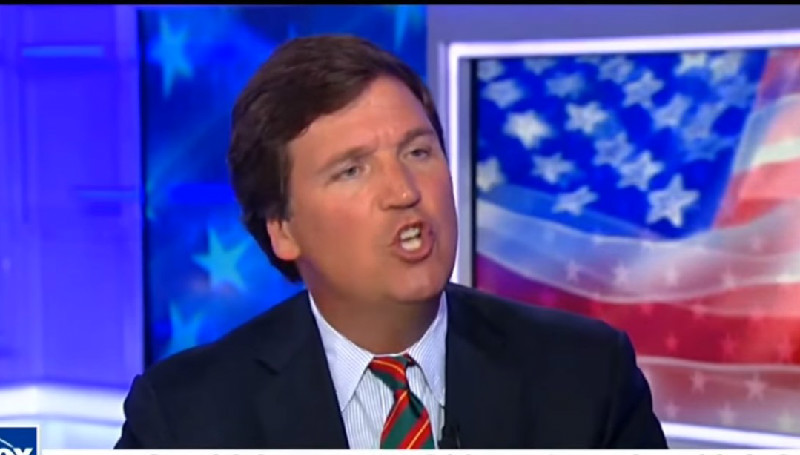 Apparently, Fox News host Tucker Carlson lost his temper and threw out a bunch of f-bombs during a recent prerecorded interview with a historian.
According to a series of tweets from Rutger Bregman, an academic whose appeal to billionaires at Davos to pay more taxes went viral last month, he sat down with the Tucker Carlson Tonight host to do an interview that would air on the program later. During the segment, Bregman claimed that Carlson called him a "fucking moron" for pointing out that the primetime cable news star is a "millionaire funded by billionaires," shooting a hole in Carlson's self-portrayal as an anti-elite slayer of the ruling class.
So @TuckerCarlson just called me a 'fucking moron' during a prerecord for his show, for pointing out that he's a millionaire funded by billionaires.

Let's see if they'll air it.

'Did they get it on audio?? Fuck fuck fuck' we heard them say here..

(Yes, we did.)

— Rutger Bregman (@rcbregman) February 12, 2019
Bregman would later share a short email that he said he received from Carlson after asking when the interview would air. In the email, Carlson — who has a habit of calling anyone he disagrees with stupid and dumb — labeled Bregman "an asshole" who "turned out to be far dumber, more dogmatic and less impressive than I expected."
Okay, so now @TuckerCarlson sent me this email, after I asked him when the interview is gonna air (was supposed to be on tonight). Stay tuned. pic.twitter.com/AKaNEjm2S2

— Rutger Bregman (@rcbregman) February 12, 2019
In comments to CNN senior media reporter Oliver Darcy, Tucker Carlson Tonight executive producer Justin Wells said that Carlson is "someone who appreciates many points of view" but Bregman turned the interview into an "obviously personal insult campaign."
Tucker's senior exec producer Justin Wells responds: "Tucker is someone who appreciates many points of view. Sadly, the guest turned an opportunity to have a substantive, informative discussion into an obviously calculated personal insult campaign." https://t.co/NbuiIEMnhZ

— Oliver Darcy (@oliverdarcy) February 12, 2019
Wells further told Darcy that they are "disappointed in the segment and respect our audience's time too much to consider airing it."
Tucker Carlson's EP adds: "We were disappointed in the segment and respect our audience's time too much to consider airing it."

— Oliver Darcy (@oliverdarcy) February 12, 2019
Looks like more time for sex crazed panda segments and coverage on Jeff Bezos being a "powerful masculine bear."