After Her Grammys Appearance, Fox & Friends Worry Michelle Obama Might Run For President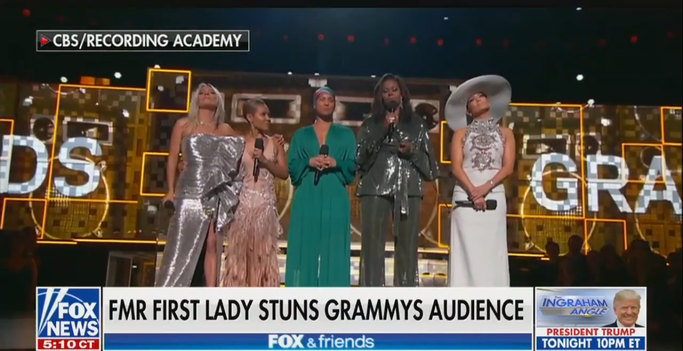 Former First Lady Michelle Obama appeared briefly at the Grammy Awards on Sunday, leading some on the right to speculate that she may be considering a bid for the White House. Though the only evidence for this so far is her surprise appearance at an awards show, this didn't stop Fox News' flagship morning show from raising the question.
Fox & Friends showed a clip of Obama at the Grammys and some of the crowd's reaction to her comments. Host Brian Kilmeade seemed concerned that Obama could soft launching a presidential campaign.
"Michelle Obama got huge applause," Kilmeade said. "They had to stop the whole night for 15, 20 seconds. You couldn't get through it, which is a tribute to her. Her book is also number one. Leaving a lot of people, including the Drudge Report, say, in the lead story, is she getting set to run?"
Kilmeade was referring to story on right-leaning news site the Drudge Report, which ran the story of Obama's appearance under the headline: Michelle OOOOOOO 2020 Tease? Grammy Audience Meltdown." The headlines linked to three separate, off site stories, as Drudge merely aggregates news.
While the other Fox & Friends hosts were quiet on the question of Obama's political ambitions, Kilmeade at first built up her candidacy and then appeared to talk it down.
"Although she's been very emphatic," Kilmeade said. "I don't even like politics. My husband dragged me into this. I'm not running. But that is somebody … She is somebody still extremely popular."
"Last night was not very political," co-host Steve Doocy said, before going on to discuss some criticism of President Trump's border wall in the opening act and Joy Villa's pro-wall dress.
"Any demonstrations for socialism or the green deal?" Kilmeade asked sarcastically. " I didn't see any. Too bad."
Watch the video above, via Fox News.