Maddow Leads In Total Viewers Friday Night, Tucker Pulls Out Close Victory In Demo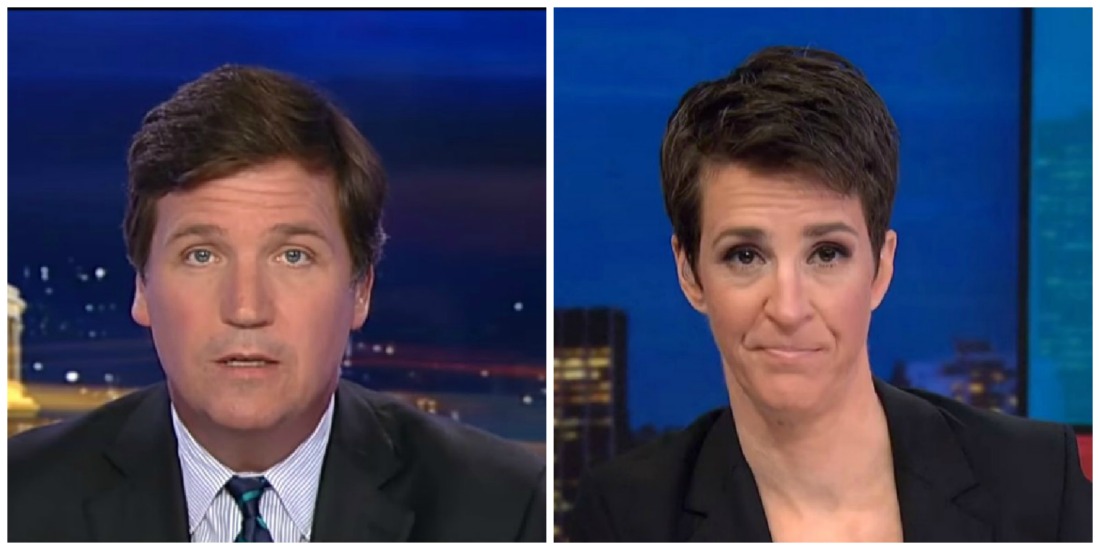 While MSNBC's The Rachel Maddow Show was the most-watched program in cable Friday evening in total viewers, it wasn't able to take the top spot in the key advertising 25-54 demographic, losing to Fox News' Tucker Carlson Tonight in that category.
According to Nielsen, Fox News led across the board in the 8 PM to 11 PM primetime hours, drawing 2.396 million total viewers and 402,000 in the key demo. MSNBC pulled in 2.265 million viewers overall and 372,000 in the demographic. CNN grabbed a total viewership of 1.086 million and 287,000 in the demo.
During the 9 AM to 5 PM daytime slot, Fox averaged 1.796 million total viewers and 315,000 in the key demographic. CNN attracted a demo audience of 243,000 and 1.001 million viewers overall. MSNBC captured a total audience of 1.502 million and 237,000 in the demographic.
Maddow topped cable news in total viewership (2.908 million) and barely finished second in the key demographic with 485,000. Tucker placed first in the demo (486,000) and took second place in total audience (2.827 million).
Fox's Hannity — guest-hosted by Dan Bongino — finished fourth overall in total viewership (2.456 million) and fifth in the demo (385,000). FNC's The Five grabbed third place in both the demo (430,000) and total viewers (2.563 million).
The top-rated program on CNN was Anderson Cooper 360, which drew 1.167 million viewers overall and 308,000 in the key demo.