Fox's Pete Hegseth Mocked For Bragging That He Hasn't Washed Hands In 10 Years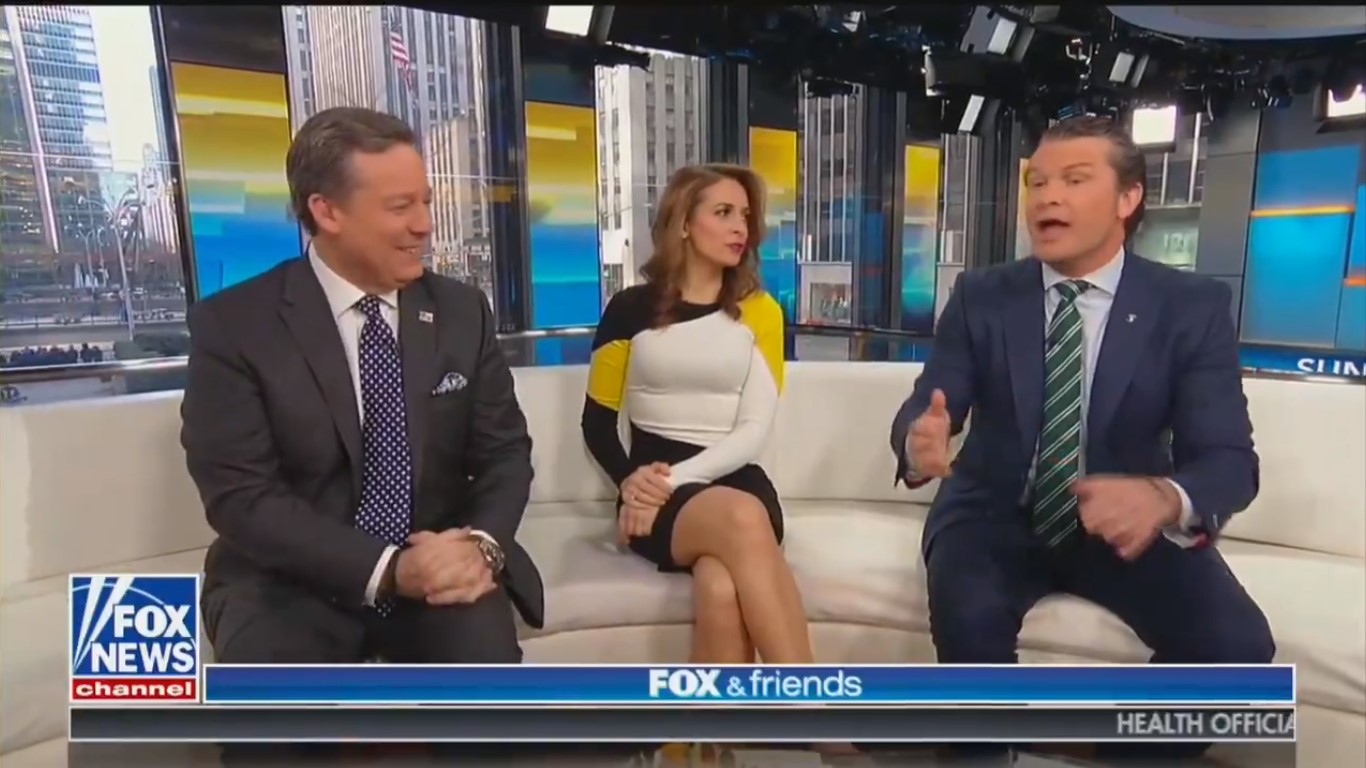 Fox News host Pete Hegseth is taking quite a bit of online ridicule over comments he made on the air. During Sunday morning's Fox & Friends, Hegseth told his fellow co-hosts that his New Year's resolution was to say things on air that he told his colleagues off. And that included revealing his belief that germs do not exist.
"I don't think I've washed my hands for 10 years," the pro-Trump Fox personality said. "Really, I don't really wash my hands ever."
He added: "I inoculate myself. Germs are not a real thing. I can't see them. Therefore, they're not real."
Fox News' @PeteHegseth admits, unprompted, that he hasn't washed his hands in 10 years.

"Germs are not a real thing," Pete says. "I can't see them, therefore they're not real." pic.twitter.com/9hsAb9YA9j

— Aaron Rupar (@atrupar) February 10, 2019
As one would expect, it didn't take long for folks on Twitter to point and laugh at those comments once the clip began making the rounds online. Quite a few folks noted the irony of a man saying he doesn't wash his hands because he can't see germs once being considered by President Trump to run the Department of Veterans Affairs.
Remember, this is the medical genius Trump considered putting in charge of the VA. https://t.co/c99MfYz82uhttps://t.co/0k9Icpwk7G

— Kevin M. Kruse (@KevinMKruse) February 11, 2019
Pete Hegseth, who *does not believe in germs*, was a finalist to a lead a VA medical system that cares for nine million people. https://t.co/TOoZnthqKx

— Alex Clearfield (@AlexClearfield) February 11, 2019
7 years ago, Pete Hegseth was running for Senate to take on Amy Klobuchar.

Their lives have taken different turns. https://t.co/9uP9MVbiqb

— Jared Leopold (@jaredleopold) February 11, 2019
Still thinking about Fox News host Pete Hegseth — considered for VA secretary at least twice — proudly admitting, unprompted, that he hasn't washed his hands in a decade because he doesn't believe in germs…because he can't see them. pic.twitter.com/XKSjFJdhf7

— Bobby Lewis (@revrrlewis) February 11, 2019
The stunning stupidity of Fox News provides a continuous reminder of why funding for education is so important.

You cannot see oxygen with the naked eye, so does Pete Hegseth need to also be reminded to breathe? https://t.co/pQBG2F3BKH

— Travis Akers (@travisakers) February 11, 2019
Germs. A real thing. #science #hygiene https://t.co/qWhfBhmskO

— Seth Andrews (@SethAndrewsTTA) February 11, 2019
This is the guy Trump wanted to put in charge of the VA health system 👉Fox News host Pete Hegseth: 'I don't think I've washed my hands for 10 years' https://t.co/wXvEcUiLY0 via @usatoday

— Jill Lawrence (@JillDLawrence) February 11, 2019