Tucker Carlson and Guest Complain That AOC Is Targeting 'Cow Flatulence'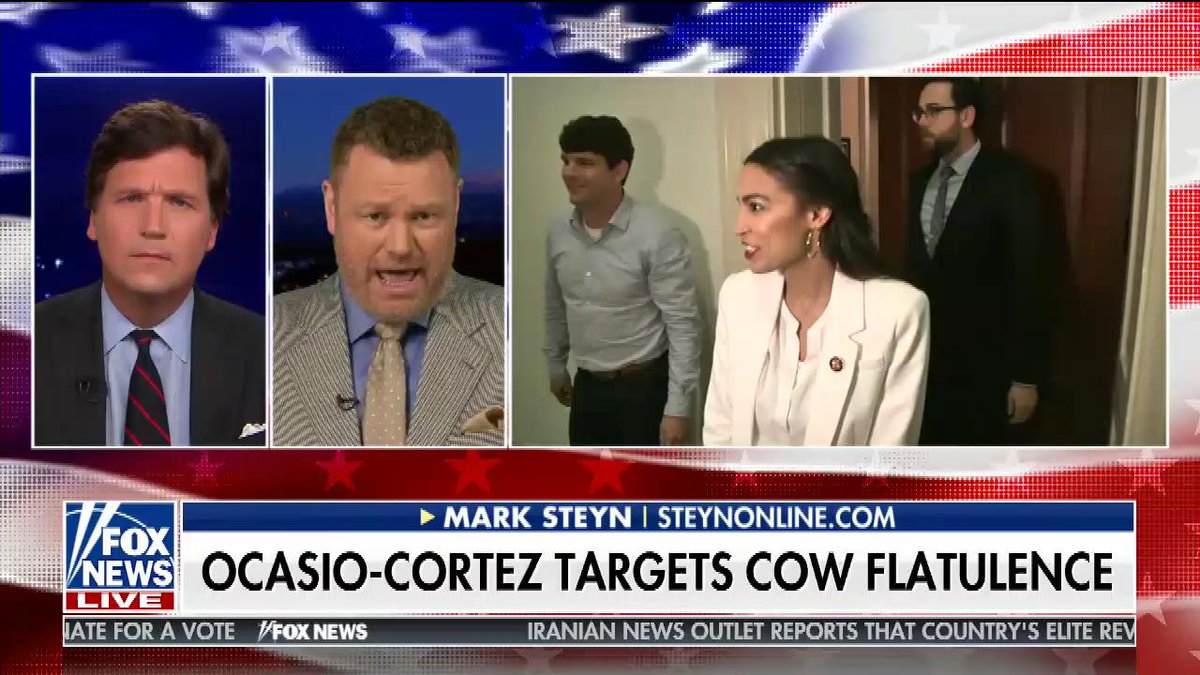 Sooo, this was a real segment we got Thursday night from Fox News' Tucker Carlson.
With Rep. Alexandria Ocasio Cortez (D-NY) and other Democrats finally rolling out a legislative plan for the Green New Deal, a resolution that calls for America's complete transition to renewable energy within the next 12 years, Tucker and frequent guest Mark Steyn couldn't help themselves but to focus on one specific detail.
Cow farts. No, seriously.
"Well, the AOC plan strikingly pledges to get rid of most forms of transportation and, indeed, cows," Steyn said as Carlson smirked and laughed. "So, you can give up your Chevy Suburban and take a cow to work."
Referencing research that shows that methane gas produced by livestock farming contributes to around 18 percent of greenhouse gases, and a quarter of that comes from cow flatulence and belches, Steyn continued to mock Ocasio-Cortez. All the while, the Tucker Carlson Tonight chyron read: Ocasio-Cortez Targets Cow Flatulence.
"Alexandria Ocasio-Cortez's document actually says that she is committed to ridding America of flatulent cows and airplanes," Steyn quipped. "I always take a flatulent cow on an airplane as an emotional support animal."
As Steyn continued to make jokes, Tucker laughed like he was at The Improv.
After the 'Camp of the Saints' superfan finished by mockingly stating that we'd need to find a "Secretary of Flatulence," Carlson added: "I just want to reassure our viewers you are not joking. You have read it."
Watch the clip above, via Fox News.