Tucker Carlson Mocked For Asking How Wind Power Can 'Heat Your Home When It's 30 Below'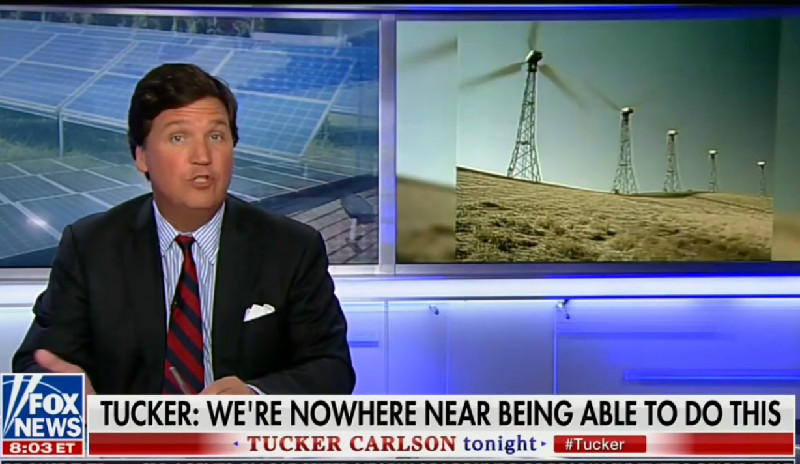 With the polar vortex plunging much of the country into a deep freeze, conservative media has curiously used the bitter cold temperatures to attack progressive Democrats' push for a Green New Deal. Fox News' Jesse Watters and Gateway Pundit's Jim Hoft both wondered how folks could keep their homes warm with solar panels, apparently believing the sun stops working when it gets cold outside.
Meanwhile, Fox's Tucker Carlson decided to go after another renewable energy source that would be a centerpiece of reinvestment in clean energy — wind power. And according to Tucker, there's just no way that wind can work when it's cold outside.
During a rant about the Green New Deal, and prior to bringing on a Koch-backed energy lobbyist who is pushing for continued use of fossil fuels, Carlson said Democrats had forgotten to "consult actual scientists about their plan."
"Talk to someone who studies energy and see for yourself," he blustered. "We are nowhere near being able to do any of this. Wind power is a scam."
After saying solar energy is a promising technology but not a replacement for fossil fuels, Carlson continued to blast the use of wind turbines to generate power and those advocating for green energy.
"Anyone who tells you otherwise hasn't bothered to learn anything about it that would describe most of the people pushing the new deal," he sneered. "How is wind power going to heat your house when it's 30 below. What is the range exactly on new solar passenger jets? They don't know and they don't care because none of it applies to them. It never does."
Tucker's declaration that wind power can't generate power to heat homes where it's cold was immediately met with widespread mockery, largely because of the ridiculous framing of the assertion but also because communities in rural Alaska and Scandinavia are utilizing the energy source.
I live in the #2 wind energy state in the nation, where our largest public university is powered entirely by wind energy. The only scam is Tucker Carlson. https://t.co/SOxVF5C9BG

— Kendally Brown (@kendallybrown) February 1, 2019
"Wind power is a scam. It's an elaborate ripoff perpetuated by… corporations that are getting rich by making the landscape uglier," Tucker Carlson explains, as he shills for fossil fuels, run by corporations getting rich by making the landscape uglier. pic.twitter.com/LpUnUi7OD9

— Brian Tyler Cohen (@briantylercohen) February 1, 2019
Tucker Carlson: "What these so-called 'green' liberals won't explain is this: How is solar power going to work when there's no wind? THEY'RE SO STUPID!!"
Children shouldn't have to attend school if Tucker Carlson has a job.

— Ken Olin (@kenolin1) February 1, 2019
Isn't this what people who refused to switch from oil lamps do "dad berned, newfangled" electric lights used to say? https://t.co/tG9cB6UQq8

— Joy Reid (@JoyAnnReid) February 1, 2019
Tucker Carlson might want to read about the subjects he talks about on television. https://t.co/c4dQwA7E7z

— Renato Mariotti (@renato_mariotti) February 1, 2019
Does @TuckerCarlson not know that it's often cold AND windy at the same time? https://t.co/OqtKnzszKD

— David Pakman (@dpakman) February 1, 2019
Oh, that @TuckerCarlson. Always going on and on about what America can't do despite other countries already doing it. https://t.co/WBB5XopUwz

— Jess Phoenix 🌋 (@jessphoenix2018) February 1, 2019
Watch the clip above, via Fox News.