Tucker Carlson Defends Steve King 'Because He Didn't Call For An Ethnostate'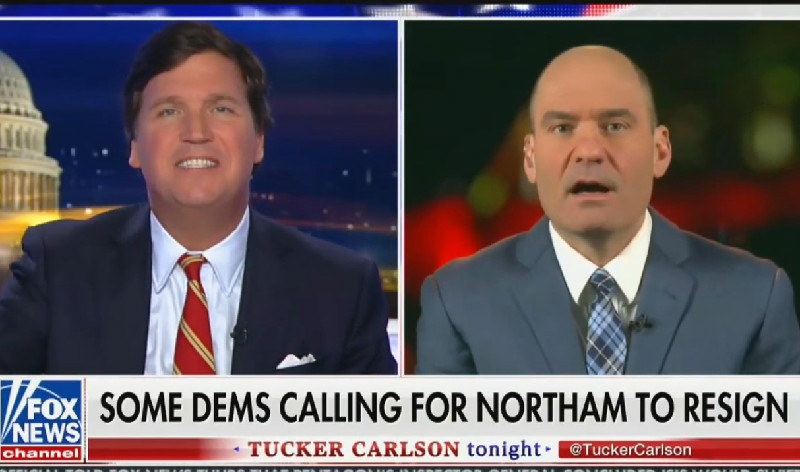 Fox News' Tucker Carlson found himself placed in the uncomfortable position of defending white nationalist Rep. Steve King (R-IA) during a segment on Democratic Virginia Governor Ralph Northam's blackface/KKK yearbook photo, stating that King isn't that bad because he hasn't called for an ethnostate and that he never actually said he was a white nationalist.
Bringing on progressive radio host Christopher Hahn to talk about the Northam scandal, Carlson wanted to know why Democrats weren't also up in arms over Minnesota Attorney General Keith Ellison since he was a member of the Nation and Islam and that organization has promoted the concept of a "black ethnostate and worshiped Louis Farrakhan as a god-like figure."
"He was a member of the Nation of Islam and called for a black ethnostate and vice chairman of your party," Carlson stated after Hahn said he wasn't that familiar with the details. "Nobody said anything. I mentioned it 30 times on the show. Nobody cared. What is the standard?"
Getting back to Northam, Hahn said the standard was the governor "had to go immediately" before highlighting King, saying that "too many people play around with racism and get to stay."
A bit flustered, Carlson went back to Ellison, once again pointing out how he's covered the Nation of Islam "calling for a black ethnostate" before brushing off King's history of overt racism.
"Maybe there's an argument in favor of that," he noted. "I don't know what it would be. But why is that okay? I mean Steve King, whatever he said, he didn't call for an ethnostate, and Keith Ellison did."
Hahn shot back that King has called himself a white nationalist, causing Tucker to say he's "not here to defend Steve King" but that King "didn't say that" and Ellison did. "Why is that alright?" Carlson asked.
This is pretty much the first time that Tucker has discussed King following the backlash over King's defense of white nationalism and white supremacy during a January New York Times interview. King's comments were met with condemnation from his own party, resulting in the Iowa Republican being stripped of his House committee assignments by GOP leadership. Prior to those remarks, King had appeared on Carlson's program several times, including a 2017 interview in which the Fox News host defended King's "you cannot rebuild your civilization with somebody else's babies" remarks.
Watch the clip above, via Fox News.