Chris Christie Slams Jeff Sessions: If He Lied To Congress, He Should Have Resigned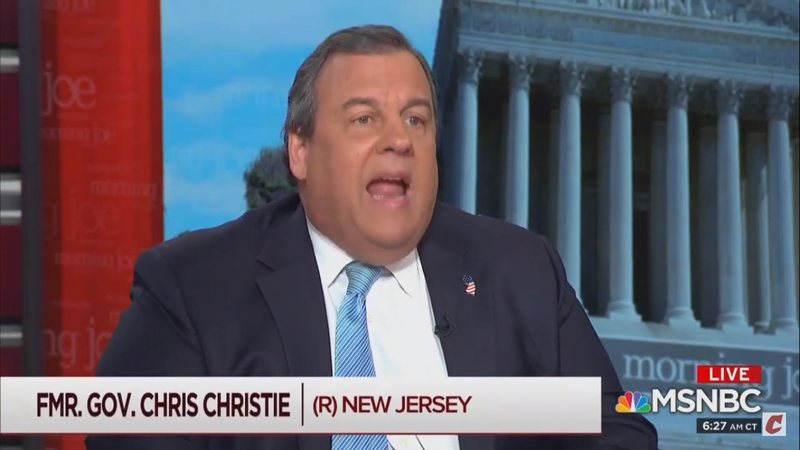 Former New Jersey Governor Chris Christie appeared on MSNBC's Morning Joe Tuesday to promote his new book and took a swipe at some of the former staffers in President Donald Trump's White House. Christie said he was concerned about some staffing choices but had particular criticism for former attorney general Jeff Sessions.
Joe Scarborough asked Christie what he thought of acting attorney general Matt Whitaker, who recently claimed Robert Mueller's probe is coming to an end.
"Matt and I served as US attorneys together and I think Matt has been put and has allowed himself to be put in a really untenable situation," Christie said. "This fault goes back to the selection of Jeff Sessions and the way Jeff Sessions ran that Justice Department. I've never seen the Justice Department more demoralized."
Scarborough asked Christie about Sessions' decision to recuse himself from supervising the Mueller probe. A back and forth followed, leading to Christie sharply criticizing Sessions for lying to Congress about contacts with Russians.
"Firsts of all, I would never lie," Christie said. "That's not why he said he recused. He said he recused because he was involved in the campaign. He knew that in November. He didn't just remember in March. 'Oh, heck, I was involved in the campaign!' If he had been honest and said I'm recusing because I testified incorrectly, untruthfully before Congress, that's one thing. Not what he said, Joe. And that's how the President got shafted here because if Jeff Sessions thought it was a conflict to be involved in the campaign, to be attorney general, then he should have told Donald Trump in November when he asked to be attorney general. From that moment he was messing up the Justice Department."
Christie and Scarborough had another back and forth about whether Sessions knew that the Mueller investigation was going on before he became attorney general and how he should have reacted.
"But it had already begun. And he knew that and we all knew that publicly. We were talking about it then," Christie said. "But I don't want to get side tracked on this. What I want to say to you is I agree with you that the real reason he recused, not the reason he stated, but the real reason he recused was because he got caught giving untrue testimony to Congress and when the heat got turned on, he ran."
"And he left Rod Rosenstein, who I know well and have great respect for, and we served as US Attorneys together in the Bush Administration, he left Rod holding the bag. He left Rod holding the bag. That's not leadership. If you were going to recuse on that basis and you didn't tell Congress the truth, you should have resigned, not recused. Different 'R' word."
Watch the video above, via MSNBC.