Jesse Watters: Journalists Are Dumb, Don't Have Any Money, And 'Live In Small Apartments'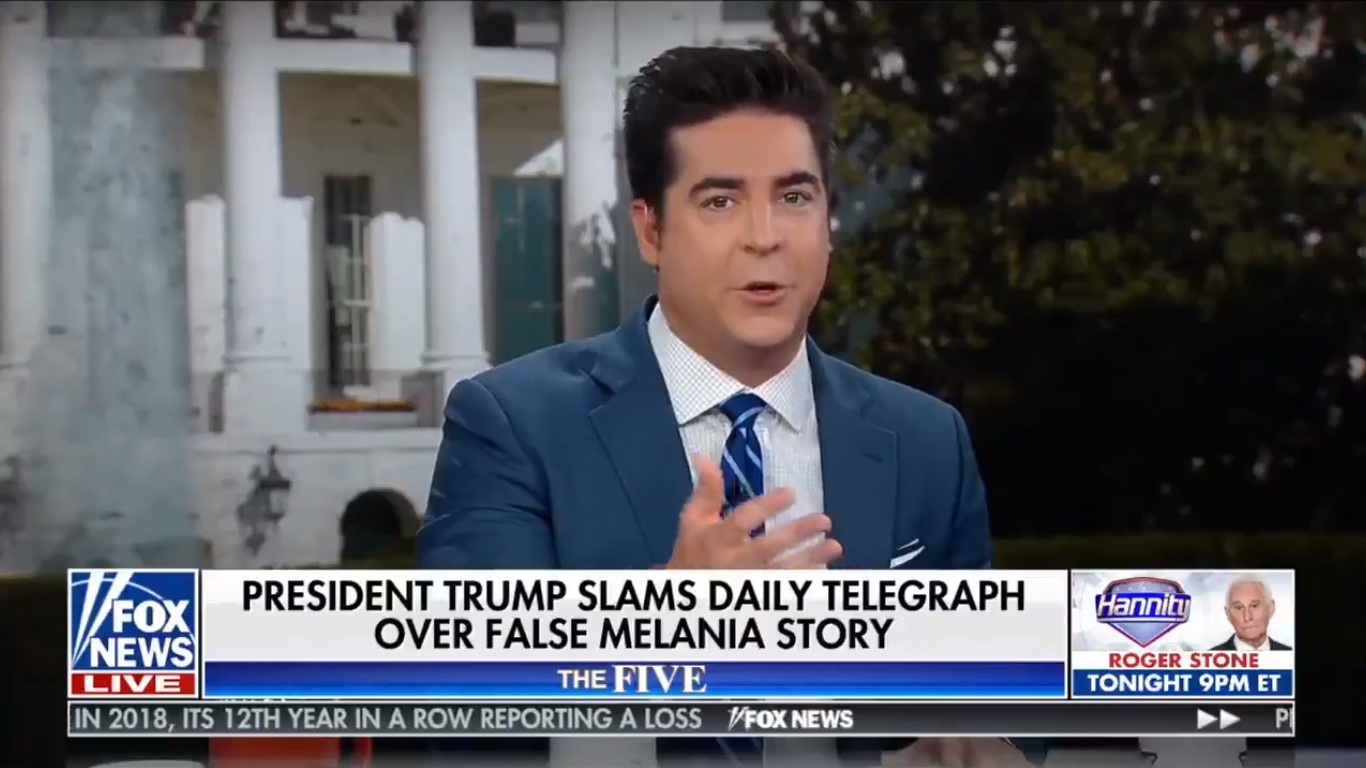 Remember all that talk from the Conservative Entertainment Complex about the mainstream media being nothing more than out-of-touch, smug, over-educated liberal elites? Well, apparently the opposite is true if you were to ask Fox News' Jesse Watters.
With Fox News' The Five railing against the media once again, this time over The Telegraph apologizing and paying damages to First Lady Melania Trump over false statements it made about her, Watters took the opportunity to crap all over journalists and label them poor dummies who live in squalor.
"Journalists are not that bright," the Fox News host exclaimed. "These people, they didn't graduate first in their class from Harvard, they live in small apartments in New York and DC, they don't have a lot of money, they're boring people at parties."
As the rest of the panel guffawed over Watters' rant, the one-time Bill O'Reilly protege continued to smear reporters, saying if "you line them up between bankers and advertising executives and lawyers, they rank dead last on intelligence."
He concluded, "These people aren't that intelligent but they act superior, and they hate Donald Trump, and they're riddled with errors in their stories. And guess what?! All of the errors make Republicans look bad."
After this site tweeted out a clip of Watters trashing journalists — especially following a number of outlets laying off hundreds of reporters recently — a number of media folks took to Twitter to react. And as you'd imagine, they had a lot to say:
I admire Jesse Watters for being his own strong Exhibit A https://t.co/8GLHrp90dt

— Anna Merlan (@annamerlan) January 29, 2019
i see jesse watters telling on himself again huh

— Justin Green (@JGreenDC) January 28, 2019
Hey, @JesseBWatters

I know some great journalists who went to top schools (including Harvard).

But it's not like one school in Cambridge is the be-all and end-all. After all, Jerome Corsi has a PhD from there. https://t.co/BB44XQaW0k

— Andrew Feinberg (@AndrewFeinberg) January 28, 2019
I've worked as a journalist and I'm a lawyer with a JD & MS from Gtown. @JesseBWatters has a BA in history from Trinity College.

Go on… https://t.co/8ZoyIOUccz

— John Aravosis 🇺🇸 (@aravosis) January 29, 2019
The telling moment here is when Watters unconsciously treats intelligence and financial gain as interchangeable https://t.co/fxBvNCn2hn

— my tweet portal is whack (@HashtagGriswold) January 29, 2019
Wow, I wonder what Watters' colleagues think of this?? https://t.co/xuUUzmhaQu

— Oliver Darcy (@oliverdarcy) January 29, 2019
Watch the clip above, via Fox News.