Sarah Sanders Asks CNN If They're 'Guilty Of Collusion' After Roger Stone Is Arrested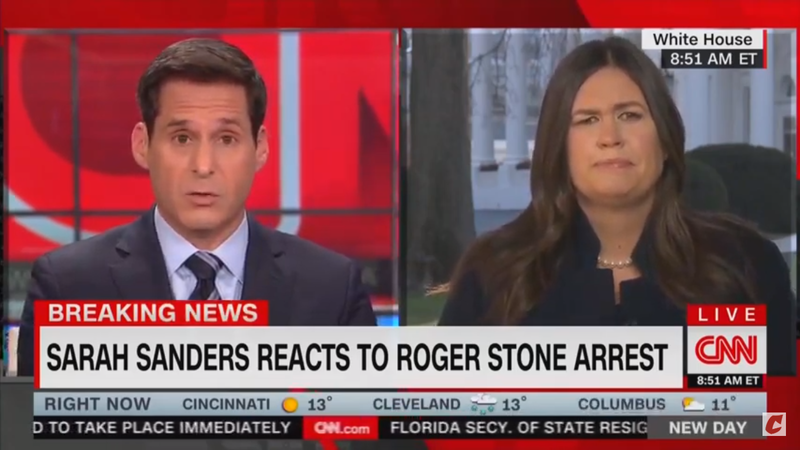 White House Press Secretary Sarah Huckabee Sanders defended President Donald Trump Friday morning following the arrest of his long-time associate, Roger Stone. Stone was arrested on charges of witness intimidation, lying and obstruction.
Sanders told CNN that there was no collusion between the Trump campaign and Russia. Stone served on the campaign in 2015 but maintained close contact even when he was not officially employed there. Sanders struggled to answer questions about Stone, instead choosing to talk about almost anyone else.
"Look, Roger Stone is somebody who has been a consultant for dozens of Republican presidents and candidates and members of Congress," Sanders said. "Conversations between those individuals have nothing to do with the fact of what these charges are about and that's about whether or not he made false statements. We'll let the courts make that decision."
"A bigger question is if this is the standard, will the same standard apply to people like Hillary Clinton, James Comey, Clapper? Will we see the same people who we know have also made false statements, will that same standard apply? That's a question that we'll see what happens on that front."
Sanders' claim that former Clinton, Comey and Clapper are known to have made false statements was made without evidence. They have not been formally accused of lying to the FBI or law enforcement generally. CNN's John Berman quoted from Stone's indictment, while Sanders repeatedly said she was not an attorney. Berman asked Sanders if she was aware of any contacts between the Trump campaign and WikiLeaks while she was a campaign staffer.
"I was a member of the campaign which is why I know that there was, as I have said a dozen times as the President has said probably hundreds of times, there was no collusion, there was no wrongdoing by the President," Sanders said. "What I also know is that outlets like yours, CNN , spent a significant time looking for information on WikiLeaks but  also reporting on it. Does that mean CNN is guilty of collusion? The charges brought against Mr. Stone have nothing to do with the President. That's what I'm clear on and that's what I can tell you today."
Watch the clip above, via CNN.