MAGA Hat Teen Nick Sandmann Unapologetic: 'I Had Every Right To' Stand There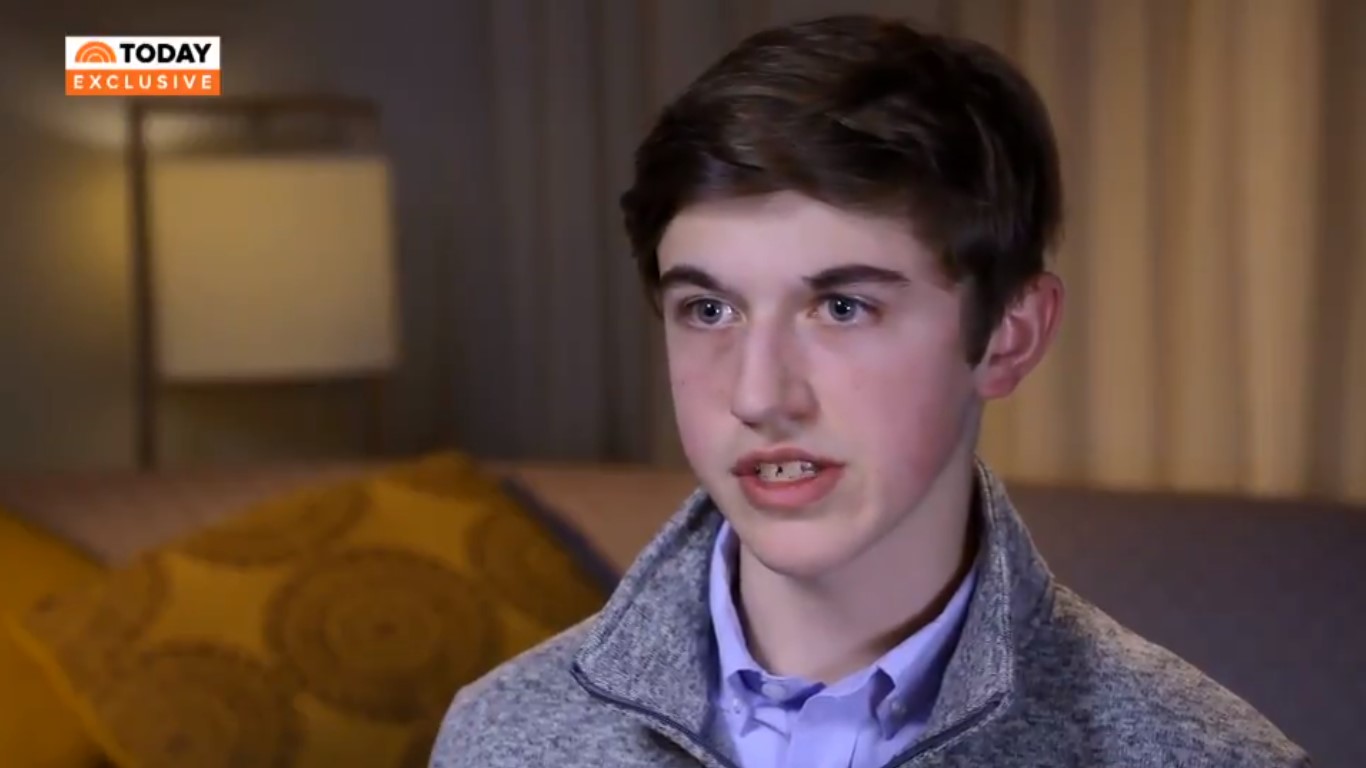 In an interview that will be aired in its entirety tomorrow morning on NBC's TODAY, Covington Catholic student Nick Sandmann said he had nothing to apologize for when it came to last weekend's incident between him and Native American activist Nathan Phillips, insisting nothing he did was disrespectful.
Speaking to NBC News' Savannah Guthrie, Sandmann — who has become known as 'MAGA Hat Teen' — was asked if he felt that the experience after Friday's Indigenous Peoples March in Washington made him feel that he owed anybody an apology. In a viral moment that has sparked heated debate across the political and cultural spectrum, a MAGA hat-clad Sandmann smirked while staring down Phillips as the Native American elder sang and beat a drum. As Sandmann stood off with Phillips, other Covington students danced, whooped and performed Tomahawk chops.
"Do you see your own fault in any way?" Guthrie asked.
"Do you feel from this experience that you owe anybody an apology? Do you see your own fault in any way?"

Tune in to @NBCNightlyNews for a preview of @SavannahGuthrie's interview with Nick Sandmann. Full interview tomorrow on TODAY. pic.twitter.com/7Croh0Toyj

— TODAY (@TODAYshow) January 22, 2019
"As far as standing there, I had every right to do," the teen responded. "My position is that I was not disrespectful to Mr. Phillips. I respect him, I'd like to talk to him."
He added, "In hindsight, I wish we could have walked away and avoided that whole thing."
Following widespread condemnation for his and the other students' actions during the weekend, a counter-narrative formed after Reason's Robby Soave reviewed roughly two hours' worth of video surrounding the confrontation and came to the conclusion that the private school boys were getting a raw deal in the court of public opinion. Sandmann's family also nabbed the services of a high-price conservative PR firm — headed up by CNN's Scott Jennings — to offer the student's side of things, stating that he was the victim of an out-of-context video and social media mob mentality.
Additional video shows fringe cultists the Black Hebrew Israelites had engaged with the large group of teens — who had just attended the anti-abortion March for Life — and bombarded them with hateful and inflammatory language. The students eventually reacted with loud chants, with one taking off his shirt. Phillips and a group of other indigenous marchers came between the two opposing factions, singing and drumming as a way to defuse the situation. Multiple videos show the students mocking Phillips and surrounding him, leading to the confrontation with Sandmann.