Fox & Friends Largely Ignores Michael Cohen Story, Covers 'Migrant Caravan' Instead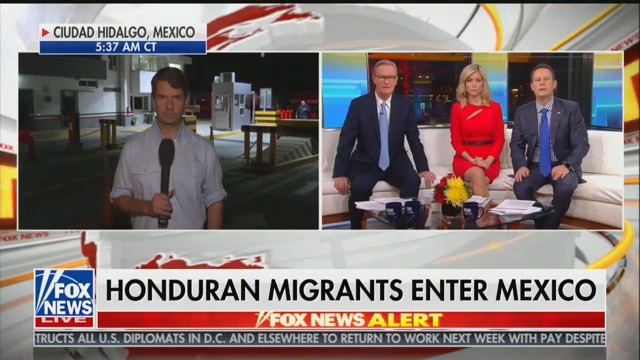 Fox News barely mentioned the bombshell report from BuzzFeed Friday morning. Fox News' flagship morning show, Fox & Friends, practically ignored the report that President Donald Trump directed his former lawyer Michael Cohen to lie to Congress about the Trump Tower Moscow project.
As of 7 am ET, the story was mentioned briefly in a short news update, which occurs infrequently on Fox & Friends and is distinct from the main agenda of the show. The report on Cohen lasted just 30 seconds and consisted largely of a quote from Rudy Giuliani mocking Cohen as a liar.
[UPDATE: During the final hour of the program, the hosts spoke with former Speaker of the House Newt Gingrich about the BuzzFeed story. Throughout the segment, the former Trump adviser dismissed the outlet's reporting, calling the site "the equivalent of those tabloids you buy at the grocery store on the way out that introduce you to Martians and tell you the story of three stars who anguished lives that you never knew about."]
Fox & Friends spent just *5 minutes* on BuzzFeed's report about Trump/Cohen (all mentions dismissing the story)

They spent *20 minutes* on a migrant caravan 'inching' towards the US pic.twitter.com/Gg8B3p1ebB

— Lis Power (@LisPower1) January 18, 2019
While CNN and MSNBC spent large amounts of time discussing the BuzzFeed story and talking to analysts about its possible implications, the allegations against the President were not a topic of discussion for the Fox & Friends hosts. Instead, they covered a number of other stories – none of which were major stories on other outlets.
The major story on Fox & Friends this morning was about a supposed new migrant caravan, which Fox News has been covering for several days. However, there was little substance to the report as the journalist on the ground, Griff Jenkins, claimed to have seen a large number of migrants enter the Mexican city of Hidalgo, but had no footage of the event. He claimed the number was at least 1,000. He did provide a photo of an open gate, without any people in it.
Other stories Fox & Friends covered Friday morning included newly elected Congresswoman Ilhan Omar's 2012 tweet criticizing Israel, Trump's decision to cancel House Speaker Nancy Pelosi's overseas trip and their own use of a live studio audience on Thursday's show.
It is worth noting that no other major news outlet is covering the migrant caravan in the same alarmist tone as Fox News, while their coverage has been mocked.
This is not the first time that Fox & Friends has ignored a major story that is damaging to Trump. The recent comments by Trump's lawyer Rudy Giuliani about collusion between the Trump campaign and Russia received little coverage. So far, Fox News has not even tried to defend Trump against the allegations in the BuzzFeed article.