Fox News' Gregg Jarrett Calls For FBI To Be Abolished For Investigating Trump's Ties To Russia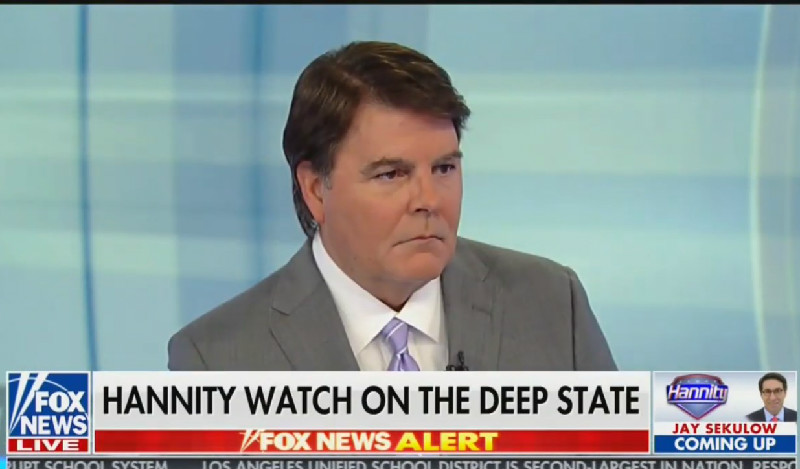 Fox News legal analyst Gregg Jarrett called for the FBI to be disbanded following a New York Times report that the bureau opened an investigation into whether President Donald Trump was working with the Russian government after the president fired FBI Director James Comey.
Appearing on Fox's Hannity alongside former Clinton advisor Mark Penn and GOP Congressman Mark Meadows during a segment on the Russia investigation, Jarrett labeled the FBI a rogue organization that needs to be reined in. After Meadows said that the FBI had been "weaponized" to go after the president and "make his life miserable" after Comey's termination, Jarrett jumped into the fray.
"This is an all-powerful, out of control agency," Jarrett exclaimed. "Rogue agency. Frankly, it's time that it be halted in its tracks and reorganized and replaced with a new organization that has legal restraints imposed upon it and accountable to somebody."
The Russia Hoax author continued, "When the boss of the FBI, Rod Rosenstein, is in bed with his subordinates, investigating a counter-intelligence case against the president with no probable cause, no reasonable suspicion, no credible evidence. It is time that the FBI be halted."
Host Sean Hannity went on to state that "these are all crimes" and "abuse of power," leading Jarrett to respond that this was "obstruction of justice" on the FBI's side and he's hopeful that Attorney General nominee William Barr will "hold these people accountable" when he takes over.
Jarrett isn't the only one calling for the abolition of the FBI. Breitbart's Joel Pollak wrote a piece on Monday saying it was time to "scrap the FBI and start over."
Watch the clip above, via Fox News.