Morning Joe's Mike Barnicle: Trump Could Be Dragged From The Oval Office 'Kicking And Screaming'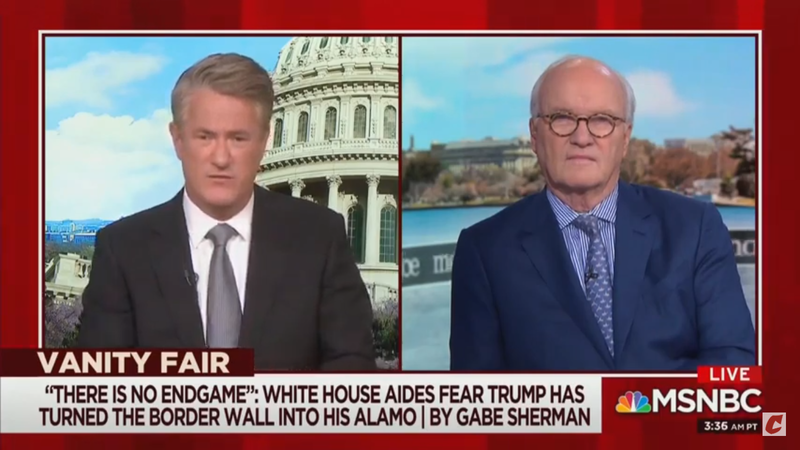 Morning Joe regular Mike Barnicle doesn't think President Donald Trump will leave office with dignity if the Special Counsel's investigation proves damning. The veteran journalist told MSNBC's Joe Scarborough that Trump will likely try to cling to power no matter how bad things get.
Scarborough quoted from a Vanity Fair article about Trump's legal troubles containing a statement from the President's lawyer, Rudy Giuliani. Giuliani is quoted as telling a friend that the Special Counsel's report will be 'horrific' and that Trump could resign in exchange for a pardon.
"Mike, you were around during Watergate, obviously, just a young lad," Scarborough said. "This is, if Mueller's report is as devastating as Rudy Giuliani is telling friends that it is, could you see this ending with Donald Trump doing a deal that would have him resign and be pardoned for his offenses?"
"Joe, given his nature, given his personality, no, I don't see him resigning," Barnicle said. "I see him clinging to the desk of the Oval Office, being dragged out kicking and screaming, if it came to that. Again, we don't know. We don't know what's going to be involved in Mueller's report. We downtown know 90% of what Bob Mueller has on his hands, maybe 100%, maybe it's that close, but I do not see the president resigning."
If Trump chooses to resign following Robert Mueller's report, Vice President Mike Pence will be left with the decision to pardon him. That is, unless Pence is somehow implicated in the report and also forced from office.This would be an unprecedented situation, however.
Scarborough also pointed out that conservative judges  have been ruling against the Trump administration, even those appointed by Trump himself.
"So far, [the Supreme Court] seemed to be hands off, and there are quite a few Trump appointed judges that are making rulings either directly related to the Mueller investigation or on the periphery, Federalists, members of the Federalist Society, that ruling against the President and for Bob Mueller. They don't seem to be in any mood to break a sweat for the President of the United States."
Scarborough's comments on Federalist Society judges is significant. The Federalist Society is a conservative organization that grooms law students and lawyers for the federal bench. If judges from their stable are not supporting Trump, he may be in serious legal jeopardy.
Watch the video above, via MSNBC.