Corey Lewandowski Laughably Insists Mainstream Media Has Ignored Tlaib's 'Motherf*cker' Remarks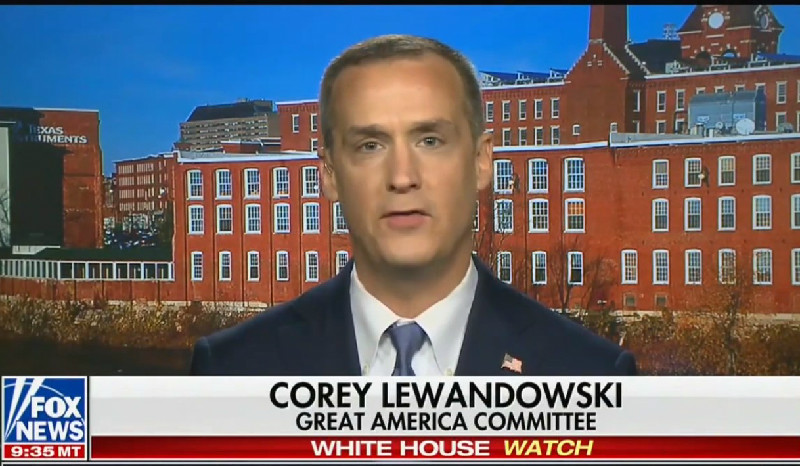 It has been said from time to time that Fox News and conservatives live in an alternate media universe. One need look no further than Saturday night's broadcast of Justice with Judge Jeanine to see that in action.
Former Trump campaign manager Corey Lewandowski showed up on the program last night and was asked by host Jeanine Pirro about Rep. Rashida Tlaib's (D-MI) profane "impeach the motherfucker" remarks at a Thursday night reception after she was sworn into Congress.
"I can't imagine if a Republican said that about President Obama what the reaction would be with the media and the Democrats," Pirro said.
Lewandowski reacted by stating Democrats "would be calling for that person to resign" and they'd "be saying that person is a racist" if that was said about Obama before making a completely false claim about media coverage of Tlaib's comments.
"The mainstream media hasn't covered this story because it doesn't fit their narrative," the Trump loyalist asserted. "This person is unfit for office or clearly doesn't represent the people they should in their home state of Michigan."
This is just gobsmackingly dishonest and flat-out wrong. The morning following Tlaib's remarks, it was one of the biggest stories in the media, with CNN and MSNBC devoting countless segments centered on the congresswoman's language and call for impeachment. For instance, if you go to CNN's website, you'd see they've posted at least a dozen stories directly related to the comments. It was discussed at length on ABC's panel show The View.
Lewandowski falsely said the mainstream media hasn't covered the story because it doesn't fit their narrative. I don't think they are the ones trying to make a narrative fit, Corey.
Watch the clip above, via Fox News.