CNN's 'New Year's Eve Live' Dominates Fox News' 'All-American New Year' In Ratings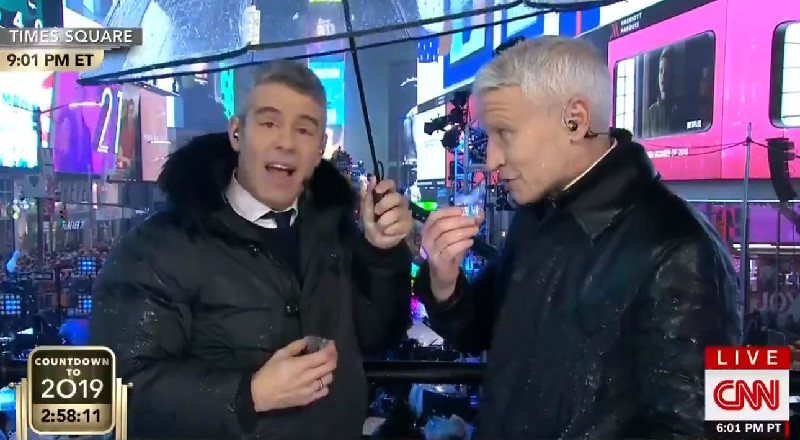 While Fox News hyped an exclusive Donald Trump call-in interview for its "star-studded" New Year's Eve special, CNN was the choice of cable news viewers ringing in 2019 as New Year's Eve Live with Anderson Cooper & Andy Cohen easily topped the ratings Monday night.
According to Nielsen, the CNN special — which aired from 8 PM to 12:30 AM — averaged 1.820 million total viewers and 786,000 in the key 25-54 demographic. During the same time period, Fox News' NYE programming drew 1.383 million viewers overall and 262,000 in the demo. MSNBC, which didn't air a NYE special, nabbed 1.075 million total viewers and 164,000 in the 25-54 metric.
In the 11 PM to 12:30 AM slot, Cooper and Cohen pulled in a demo audience of 1.197 million and 2.797 million viewers overall. In contrast, Fox's All-American New Year, co-hosted by Lisa Kennedy Montgomery and Pete Hegseth, attracted 1.840 million total viewers and 358,000 in the key demo.
From 8 PM to 10 PM, Fox News' pre-coverage was hosted by Carley Shimkus and Griff Jenkins.
Per a press release by CNN, Fox News' audience as a whole was also far older than CNN's, as the median age for CNN was 52. On the other hand, Fox's median viewer was 64 years old.
CNN also won in the post-midnight ratings battle. CNN's New Year's Eve Live with Don Lemon & Brooke Baldwin, which aired from 12:30 AM to 1 AM, delivered a total audience of 1.837 million and 778,000 in the demo. Fox News' grabbed 1.281 million viewers overall and 259,000 in the demographic.