Trump Loyalist Says We're Just 'Fronting The Cash' For Wall: POTUS Will 'Figure Out How Mexico Pays For It'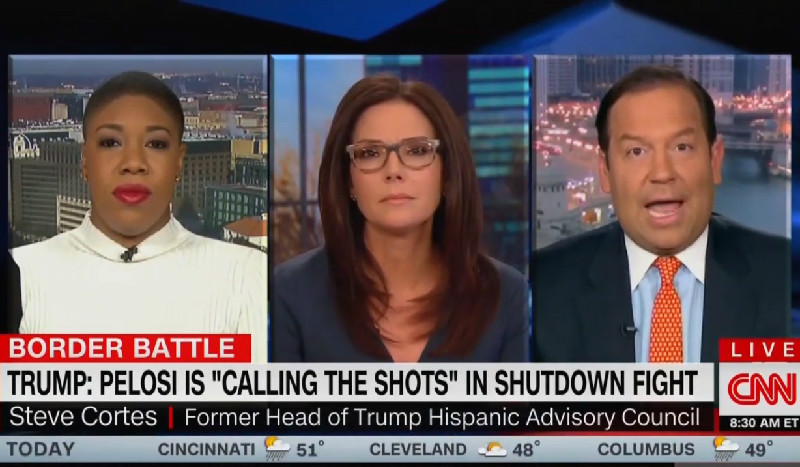 Well, this is an interesting way to spin "Mexico will pay for it!"
With the partial government shutdown entering day six as President Donald Trump continues to hold out for $5 billion in funding for a border wall, CNN political commentator and loyal Trump defender Steve Cortes claimed that Trump is still holding true to his promise that Mexico would pay for the wall because any money spent by the U.S. government will be nothing more than a loan to our southern neighbor.
Appearing on New Day alongside fellow CNN contributor (and frequent combatant) Symone Sanders, Cortes brushed off recent polls that show the majority of Americans oppose the building of the wall, especially if the United States is the one paying for it.
"To me, the poll that's most important is the 2016 election, where the wall was Donald Trump's signature issue," Cortes told host Erica Hill. "He could not have been clearer about that topic, and the people spoke resoundingly."
Hill noted that Trump also promised that Mexico would pay for the wall and that country's leaders have made it abundantly clear that they will not be sending any money for the project. She further stated that you "can't do funny math and move money around in the government to get Mexico to pay for the wall," reiterating that the American public doesn't want the wall.
"I'm not surprised that Mexico isn't offering to pay for the wall, of course not," Cortes reacted, adding that Trump "delivers on his promises" before offering up some remarkable pretzel logic.
"He's going to figure out how Mexico pays for it," the informal Trump advisor said. "We are effectively fronting the cash — he's a developer, look at it as a construction loan."
As he insisted there were other ways to get the cash from Mexico, Sanders jumped in and said that he was being "intellectually dishonest" before stating that "what the president campaigned on was in fact that Mexico would build the wall." She also wanted to remind Cortes of something.
"I would like to remind you of the election in 2018 where an overwhelming number of Republicans on the House side ran on immigration," Sanders declared. "It was their closing argument. It was the president's closing argument and they resoundingly were rejected. The American people rebut that so I'm really not sure how this is a sound strategy."
Watch the clip above, via CNN.