Mike Huckabee: It Wasn't Like Trump Boiled The Little Girl's Bunny When He Asked Her About Santa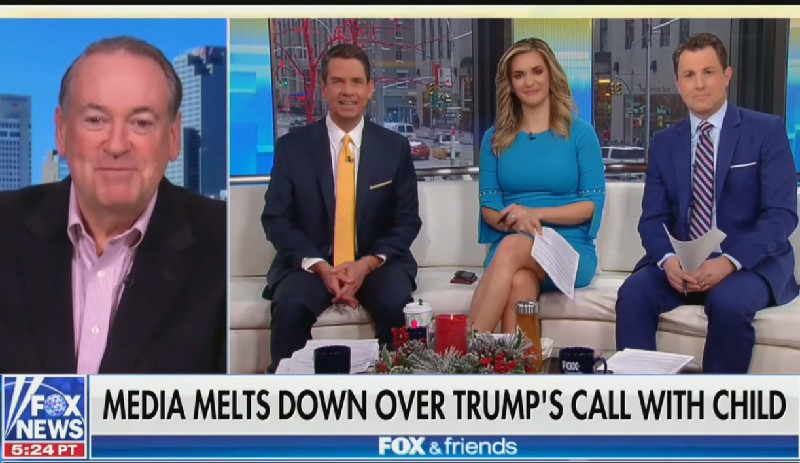 Capping off a Christmas Eve that featured him ranting on Twitter and messing with the stock market, President Donald Trump took a phone call from a seven-year-old and let the little girl know that it was "marginal" that kids her age would still believe in Santa Claus. POTUS essentially telling a little kid that Santa isn't real on Christmas Eve was met with widespread mockery because it absolutely should have been.
This morning, however, despite the obvious hilarity of a sitting president screwing up the unscrewable task of wishing little kids a Merry Christmas, the good folks at Fox News decided this was all the mainstream media's fault and further proof of the press's Trump Derangement Syndrome. One Fox personality took it even further by invoking an iconic and horrific scene from Fatal Attraction to make his point.
Appearing on Fox & Friends, former Arkansas Governor and current Fox News contributor Mike Huckabee reacted to the reporting of the silly story by raging against the press while arguing that there is nothing Trump could do right in the media's eyes. And he tried to make one of his trademarked Hucka-jokes to drive home the point.
"What is wrong with people?!" Huckabee exclaimed. "It wasn't like he was boiling the little girl's bunny rabbit in a pot on the stove. He asked a simple question. You can never find a way that President Trump will make some of the people in the press happy."
He continued, "It doesn't matter what he does. If he didn't make the call, if he didn't talk to the little girl, they would say he was curled up in a fetal position in the White House and was unwilling to come out and talk to anybody. The man can't catch a break."
While this has become a tired exercise, just imagine the reaction from the right-wing former presidential candidate if it were President Barack Obama who had told a young child that Santa didn't exist. It would not only have created a month's worth of outrage but likely would have been used as proof by the so-called man of faith that Obama wasn't really a Christian.
Huckabee, whose daughter works as the president's press secretary, went on to complain about the lack of balance in the press and how it is all about advocacy and making the president look bad.
Watch the clip above, via Fox News.