Maggie Haberman: Republicans Are Now Admitting It 'Was A Mistake' To Support Trump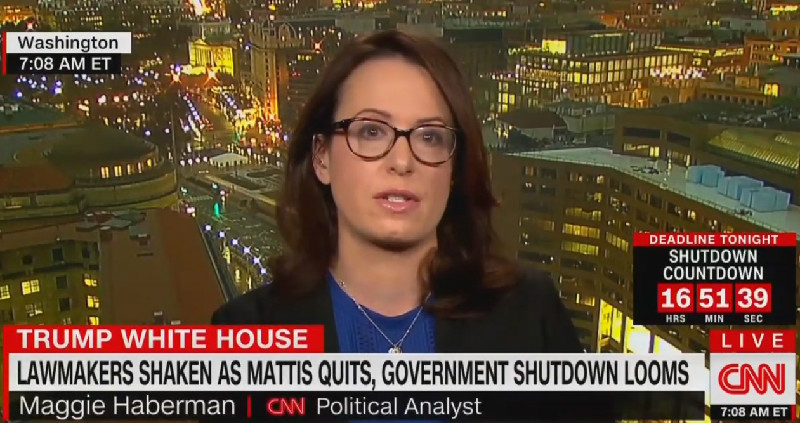 With Washington immersed in chaos and uncertainty due to a seemingly endless list of serious issues hitting at the same time — tanking stocks, a looming government shutdown, the multiple investigations closing in on the president, and Secretary of Defense James Mattis's shocking resignation in protest of President Trump's withdrawal of troops from Syria — the New York Times' Maggie Haberman noted that Republicans and conservatives are now regretting their decision to back a Trump presidency.
Appearing on CNN's New Day this morning, the plugged-in reporter explained that folks working in the State and Defense Departments do not think things are going well in the administration and are now worried "about what is going forward and who is going to be willing to fight on the U.S.'s behalf in the future" following the Syria decision and Mattis's resignation. She further stated that even when the White House has victories it can tout, such as the criminal justice reform bill, the president decides to step all over it.
"This is a president that is a chain reaction president, except the things he is reacting to is usually his own behaviors, and then he acts to other reactions to his behaviors," Haberman said. "And that's what happened in midterms for a year where you have Republican senators and house members incredibly frustrated he would not talk about the tax bill, and instead he had to go off on the tangents and fight Twitter wars with people instead of talking about things he accomplished in office."
The conversation then shifted to the president' survival going forward now that it feels like some of his Republican support may be wavering with the chaos reigning on so many fronts.
"We're in a critical moment," Haberman told the hosts. "The number of conservatives I have talked to in the last day who worked on the campaign and supported the president who now say, 'You know what, I regret doing that, and this was a mistake, this administration is, you know, off the rails, and all of these investigations that are coming to a head will be a huge problem.'"
She continued, "They are disgusted, for lack of a better word, with what they have seen, the details that came out of Michael Cohen plea deal. That is going to intensify as we get into the year. It takes 20 senators to vote in favor of impeachment — Republican senators to vote in favor of impeachment. This could be a critical moment. It also could not be. The president has pulled back from the precipice before, but I think this one might be different."
Watch the clip above, via CNN.