'He's A Cheap Grifter': MSNBC's Charlie Sykes Shreds POTUS Over Trump Foundation 'Scam'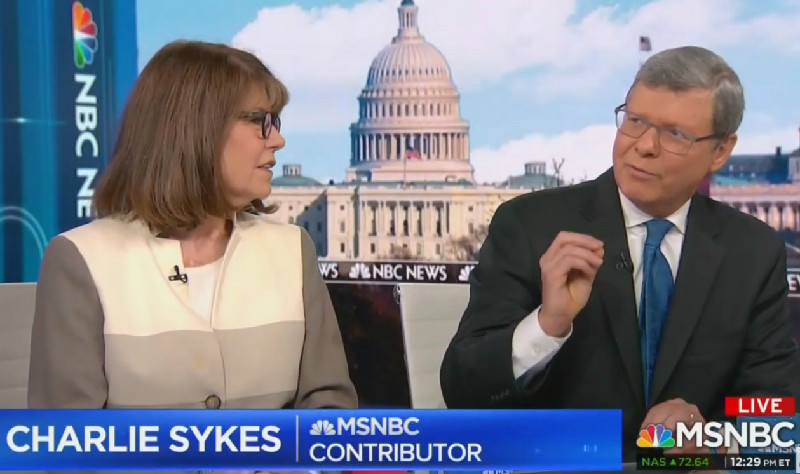 Earlier this week it was announced that President Donald Trump's supposed charity fund, the Trump Foundation, would be shutting down as New York Attorney General pursues a lawsuit against the foundation. The attorney general's office alleges that Trump used the charity as a personal and political slush fund and will distribute the foundation's remaining $1.75 million to other charities and funds, per the settlement reached.
During an appearance on Andrea Mitchell Reports this afternoon, MSNBC contributor and Never-Trump Republican Charlie Sykes tore into the president over his use of the foundation, stating that it showed Trump was involved in self-dealing and was nothing more than a "cheap grifter."
After Washington Post reporter David Fahrenthold went over the basics of the settlement and detailed how the president used the charity to purchase personal items and settle disputes with his gold club, Daily Beast columnist Margaret Carlson lauded Fahrenthold for his dogged reporting on the Trump Foundation. She then noted how Trump used the charity for small-dollar stuff.
"He did not buy a boat or a plane, but he got the $7 entrance fee for his son," she said. "And the portraits and the Tim Tebow helmet which by the way, now, they have to sell that, but it is worth $975 and all of this grift is worth $975, and he paid $42,000. So even as a grifter, he is not a good businessman –"
"He's a cheap grifter," Sykes snarked.
"This is not a charity, but a slush fund and a scam and a grift," he added. "But David's reporting was so solid before the election — we knew this. And it became central, though, to this sort of the big lie behind Donald Trump which is that he was a successful businessman when he really wasn't, and that he was a philanthropist, when in fact, he was basically engaging in self-dealing.:
Sykes went on to highlight the fact that Trump is now not allowed to run a charity, per his settlement with the NY AG, but "he has the nuclear codes."
Watch the clip above, via MSNBC.