Alan Dershowitz: Michael Flynn Did Nothing Criminal Because 'Lying To The FBI Is Not A Crime'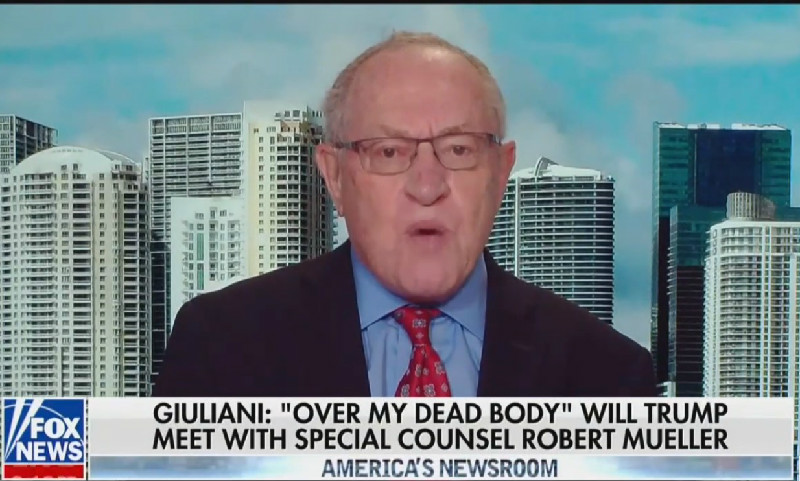 Renowned attorney and retired Harvard law professor Alan Dershowitz has bristled over critics' description of him as a Trump defender, insisting that he is only pushing back on the Muller investigation because he's a civil libertarian. His latest Fox News appearance, however, will only give his detractors more ammunition considering his assertion that lying to the FBI isn't a crime.
Reacting to Trump lawyer Rudy Giuliani's insistence that the president will only be interviewed by the special, counsel over his dead body, the author of The Case Against Impeaching Trump said "every reasonable defense attorney would give the same advice." He then brought up the upcoming sentencing hearing of former National Security Adviser Michael Flynn for lying to the FBI about his contacts with Russian officials.
"Look, the Flynn case is fascinating," Dershowitz told anchor Bill Hemmer. "I hope the judge understands when he has the case tomorrow that Flynn did not commit a crime by lying because the lie has to be material to the investigation."
He continued, "And if the FBI already knew the answer to the question and only asked him the question in order to give him an opportunity to lie, his answer even if false, was not material to the investigation. Lying to the FBI is not a crime."
Hemmer reacted by wondering aloud why Flynn wouldn't "just tell the truth especially if everybody knew what was going on" before moving on to Giuliani's Sunday show interviews.
Recently, Flynn's lawyers filed a sentencing memo stating that the FBI didn't give him "a warning of the penalties" of lying to the FBI in their interviews with him and told him it would be quicker if he spoke to him without an attorney, causing many of Flynn's supporters — such as the president — to claim that he was a victim of entrapment. Mueller has called on the judge to reject Flynn's "attempt to minimize" his lies to the FBI during sentencing.
Watch the clip above, via Fox News.