CNN's Oliver Darcy Criticizes Cuomo-Kellyanne Interview: 'Not Sure What Purpose That Serves The Viewer'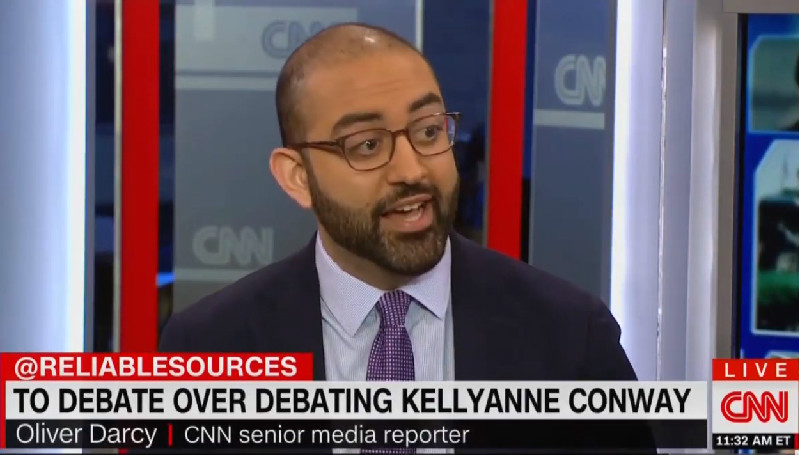 Last week, CNN anchor Chris Cuomo took some heat from colleague Don Lemon over his marathon 39-minute sparring match with White House counselor Kellyanne Conway as Lemon took the Cuomo Prime Time host to task for wasting the viewers' time, stating that Conway's performance was a "defective, dismissive and histrionic display of non-answers."
On today's broadcast of CNN's media analysis show Reliable Sources, CNN senior media reporter Oliver Darcy largely agreed with Lemon that it's clear Conway is just looking to deceive and deflect while host Brian Stelter said he sided with Cuomo as he sees value in bringing on Conway. Stelter also noted that he'd interviewed Conway three times on his show.
"If Kellyanne wanted to come on and have a genuine discussion about policy that was rooted in facts, I think that would be one thing," Darcy noted. "But it's very clear that when she does come on, she's aiming to deflect, she's deceiving the audience. She's spreading misinformation. And I think that's the problem."
He said that he could see Cuomo's point that he "wants to share the other side" and the White House can't answer some of the pressing questions of the day, but Darcy felt there were other ways to go about it.
"He could show and play audio of the president contradicting himself," the CNN reporter stated. "There are ways that you can illustrate to the audience that the White House has no good questions for the pressing issues. A 40-minute sparring back and forth with Kellyanne Conway? I'm not sure what purpose that serves the viewer."
Stelter contended that it shows the "hollowness of the White House's argument," something Darcy found some disagreement with.
"You don't need 40 minutes of that to see the hollowness of the arguments," he asserted. "He can show the president contradicting himself. We have audiotape of this. It's easy to show to the viewer. And in a way that doesn't allow someone from the administration to come on for 40 minutes and spread misinformation to CNN viewers."
Stelter defended Cuomo's approach to the interview, stating that the anchor interrupts and makes sure the lies don't spread. He further added that he likes that CNN has both "a Cuomo and a Lemon" and that they air both arguments on the issue.
CNN contributor Joan Walsh would join in, stating that she "loved the debate between Don and Chris" and that she comes down on the side of Darcy, agreeing that 40 straight minutes of Conway isn't exactly newsworthy.
Watch the clip above, via CNN.