Maddow Once Again Tops Ratings Thursday Night, Hannity Finishes Last In Demo At 9 PM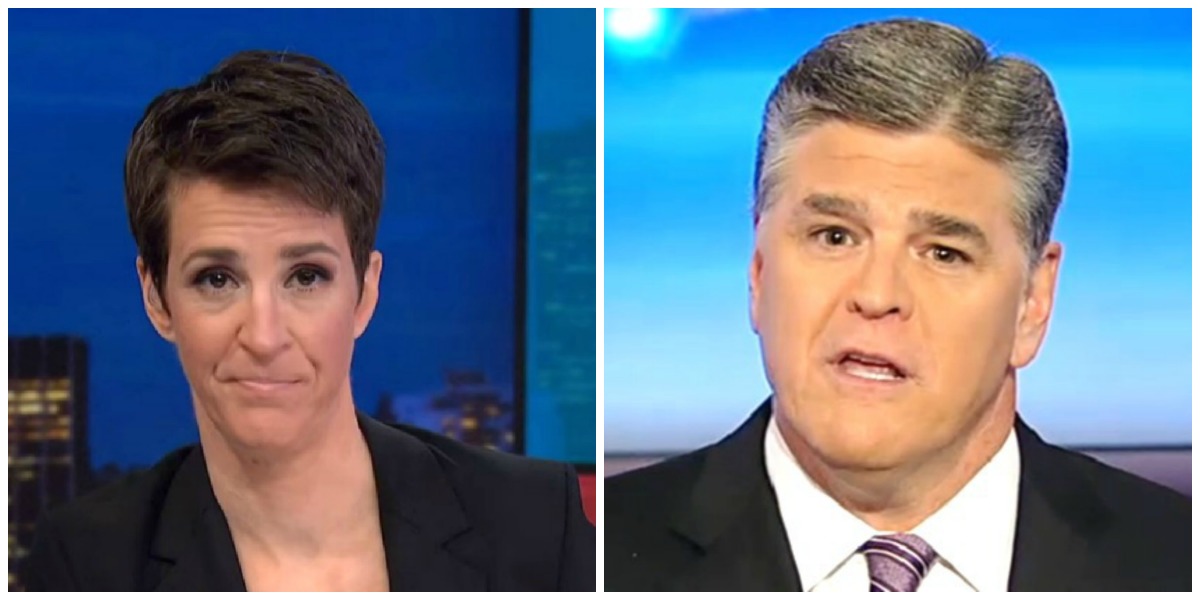 On Thursday night, MSNBC and Fox News split in primetime as Fox led the way in total viewership while MSNBC took the top spot in the key 25-54 demographic. MSNBC's The Rachel Maddow Show, meanwhile, once again ruled the roost as cable news' most-watched program.
According to Nielsen, Fox News averaged 2.454 million total viewers and 454,000 in the key demo during the 8 PM to 11 PM primetime hours. MSNBC drew a demo audience of 454,000 and 2.428 million viewers overall. CNN attracted a total viewership of 1.325 million and 378,000 in the demographic.
During the 9 AM to 5 PM daytime slot, CNN placed first in the demo with 216,000 while capturing a total audience of 912,000. Fox News nabbed 1.451 million viewers overall and 202,000 in the 25-54 metric. MSNBC averaged 1.232 million total viewers and 174,000 in the key demo.
Maddow was the number one cable news show in both the demo (596,000) and total viewership (3.047 million). Fox News' Hannity placed second overall in total viewers with 2.784 million, but came in third in its 9 PM time slot in the key demo (386,000), finishing fifth overall.
Fox News' Tucker Carlson Tonight placed third in total viewership (2.354 million) and sixth in the demo (380,000). CNN's Cuomo Prime Time, which airs oppositive Maddow and Hannity, took second place overall in the demo (404,000).
The most-watched program on CNN was Anderson Cooper 360, which pulled in 1.367 million viewers overall.