Fox News' Marie Harf Calls Out Jason Chaffetz For Spreading Conspiracy Theories: 'No Evidence!'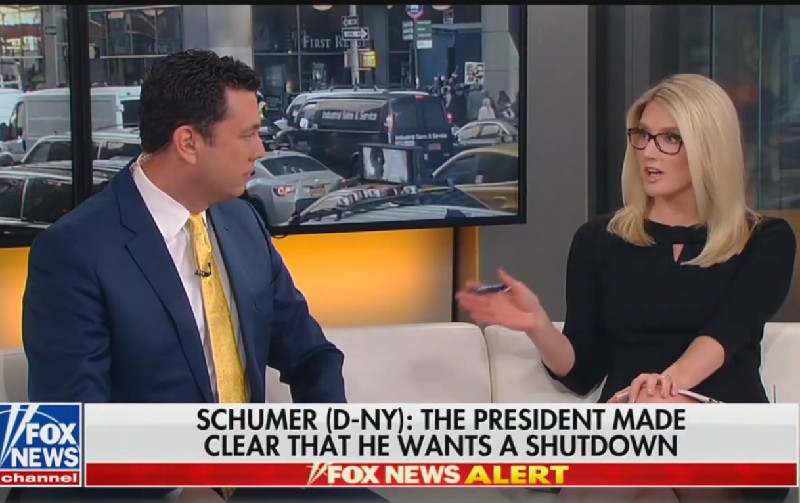 Immediately following the explosive confrontation between Democratic leaders and President Donald Trump that featured the president proudly threatening a government shutdown if he didn't get funding for his border wall, things got tense on Fox News' Outnumbered as token liberal Marie Hark took #OneLuckGuy Jason Chaffetz to task for tossing out conspiracy theories.
With anchor Harris Faulkner starting things off by asking Chaffetz about media hypocrisy because reporters didn't ask Nancy Pelosi or Chuck Schumer about their roles in the previous shutdown, the former Republican congressman turned Fox News pundit decided to go full Gateway Pundit. Or, in other words, he parroted the president.
"I don't buy the Democrats wanting to secure the border," he declared. "They wanted to shut down ICE; they were encouraging on the caravan."
Right away, Harf jumped in and told Chaffetz his baseless claims weren't true, causing the Trump loyalist to snap back.
"It is absolutely 100 percent true!" Chaffetz shouted. "It is 100 percent true! It is human trafficking!"
Harf asked if she could respond to Chaffetz, only to have the ex-Utah lawmaker reply that she was the one who interrupted him. Siding with Chaffetz, Faulkner added that Harf "interrupted a former congressman and he's calling you on it!"
"When he says things that aren't accurate on TV, I'm going to interrupt," the former Obama administration official retorted before highlighting how wrong Chaffetz was.
"The Democrats do not support shutting down ICE, she said. "Individual members talk about it, but the caucus did not."
After Chaffetz noted that he didn't "hear any Republicans talk about it," Harf moved on to debunking his caravan claim.
"Second, the Democratic party is not supporting the caravan, that is a conspiracy theory that has been repeatedly debunked online, do not repeat it for our viewers," she stated. This caused Chaffetz to say how in his heart he wholeheartedly believes it, leaving Harf with a huge opening to shut him down.
"There's no evidence," Harf exclaimed. "In your heart, you might feel that. [But] there's no evidence. No evidence, no evidence, none, none!"
He meekly sighed: "That is just not true. We disagree on that one."
And with that, the rest of panel moved on and didn't address Chaffetz's conspiracy-peddling, instead arguing that Pelosi had "made it personal" with Trump in the Oval Office confrontation.
Watch the clip above, via Fox News.
[H/T Mediaite]