Morning Joe Mocks Trump's Twitter Meltdown: He Should Switch To Fox & Friends ASAP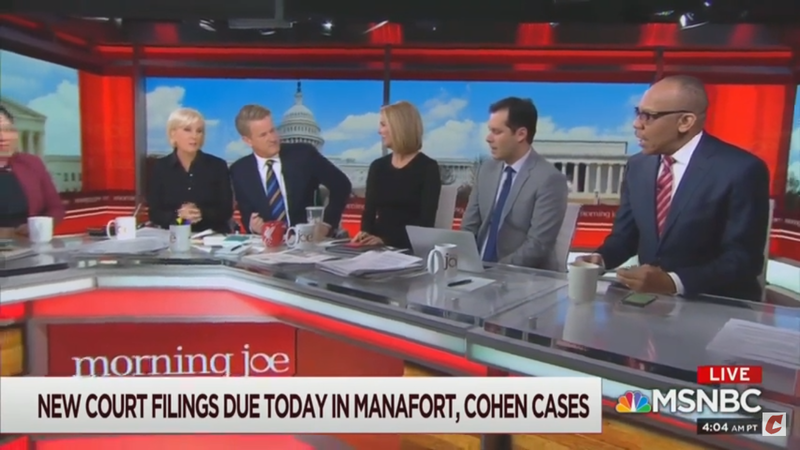 Morning Joe hosts Joe Scarborough and Mike Brzezinski mocked President Donald Trump's early morning Twitter firestorm about the Russia investigation. The President sent a series of angry and sometimes incoherent tweets about Robert Mueller this morning and the show's hosts and guests couldn't help laughing at him.
"We haven't seen what if anything Mueller is really going to reveal today, so … the President …. this seems to be getting to him," said the Washington Post's Eugene Robinson following the reading of some of Trump's tweets about the Mueller probe.
"Somebody needs to change his channel to Fox & Friends ASAP," Brzezinski joked, but Scarborough disagreed: "Well, no, I mean … he'd be tweeting about that town that banned snowball fights."
"What if they built an entirely fake Twitter ecosystem where he thought he was tweeting out to his millions of followers but it was really going nowhere?" suggested Sam Stein of the Daily Beast.
Another guest, BBC World News America's Katty Kay, had a more complex idea for the President.
"There is a proposal for a drama series where it's sort of Pleasantville," she said. "The President is put in an alternative White House with all of the staff and the press corps and everything around him. It's a proposition for a reality drama."
Brzezinski then asked Yamiche Alcindor to bring some 'elegance' to the conversation, but Alcindor replied: "I'm looking at the president's meltdown and the fact we're in the middle of this ellipsis. Sometimes I think that these are the favorite parts of the morning because you're kind of just anxiously waiting to see what comes next."