'He's Just As Dirty And Guilty!' MSNBC Contributor On Hannity Telling Mueller Witnesses To Not Talk To FBI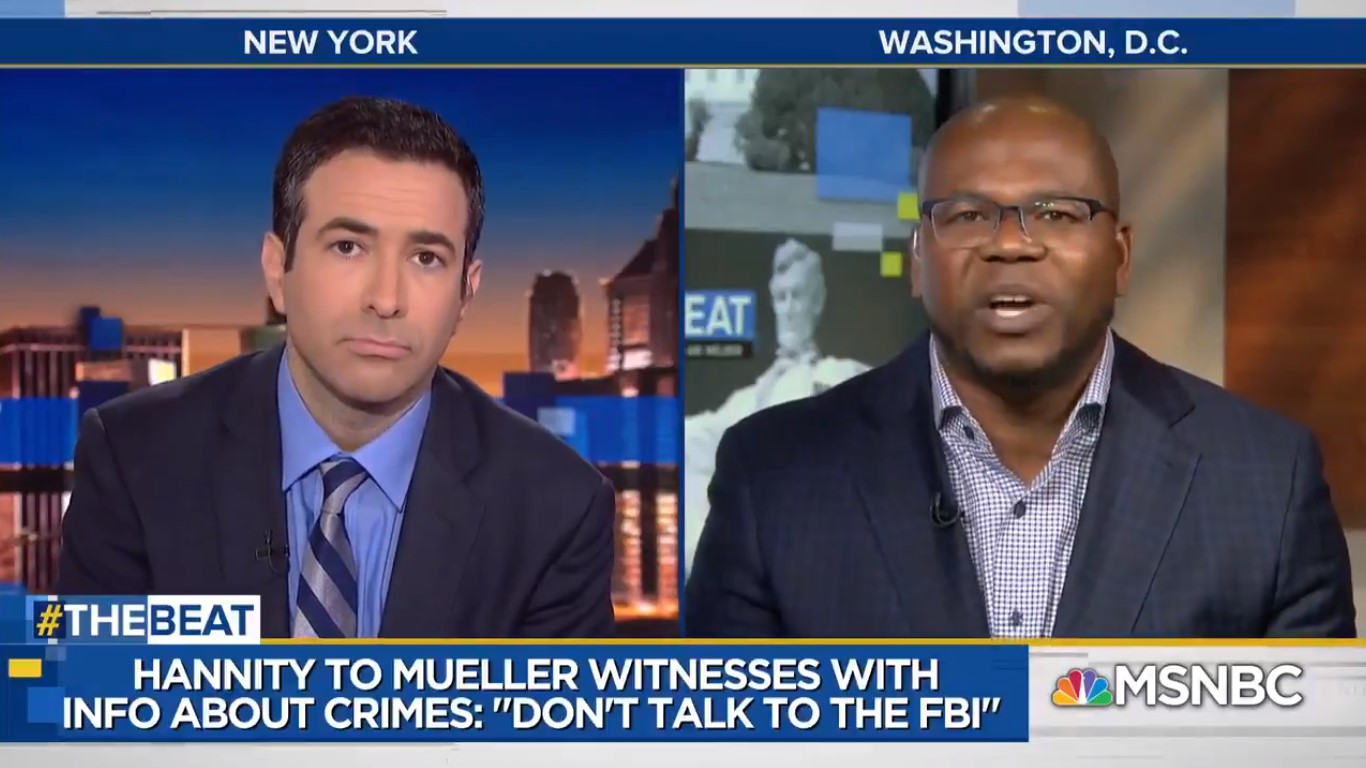 Towards the end of an MSNBC segment on Fox News star Sean Hannity flip-flopping on his previous position about snitching to the cops by telling witnesses in the Mueller investigation "don't talk to the FBI," MSNBC contributor and Morgan State professor Jason Johnson noted that Hannity was saying that because he's guilty as well.
During his radio program yesterday, Hannity railed against the Mueller probe as being an anti-Trump witch hunt, as he is wont to do. In the wake of the Michael Flynn sentencing memo that shows the special counsel is Flynn serve no jail time for lying to the FBI because of his cooperation to the investigation, Hannity advised other witnesses not to talk to the FBI.
The Washington Post's Philip Bump highlighted on Wednesday that back in 2007, Hannity blasted rapper Cam'ron over his stance on not talking to law enforcement, which got a lot of coverage due to a 60 Minutes interview.
"It's called the 'stop snitching' campaign, and it is taking urban communities by storm," Hannity said during a Fox News broadcast. "The purpose? Do not cooperate with police on a crime that you witnessed, no matter how bad. And the result is crimes across America are going unsolved."
He added, "What makes this movement more disturbing is that this back-room code of silence is being marketed by big corporations and fueled by the rap-music industry."
At one point in the segment, after discussing Hannity's previous views, host Ari Melber brought up Hannity's close relationship with the president and the fact that he was at one time former Trump lawyer Michael Cohen's secret client. This caused Johnson to connect the dots and state that Hannity wasn't just practicing media hypocrisy.
"One of the many reasons he thinks he can do this is because he's a rich white guy," Johnson said. "He sees that the government and members of this administration will protect him."
After Melber wondered aloud if Hannity is channeling Trump's legal approach when it comes to saying never talk to law enforcement despite your professing your love for police, Johnson let loose on the Fox News star.
"If Sean Hannity wasn't knee-deep in the muck and in the swamp that he has railed against as much as he happens to be, he'd keep his mouth quiet right now," he exclaimed. "He's not going to because he's just as dirty and guilty as the people he's trying to defend."
Melber wrapped up by saying they wanted to put a spotlight on this because of Hannity's public record and links to the president, further noting that "for it to be so blatant the way he talked about quote urban communities and the way he tried to put everyone on blast for that…so-called stop snitching effort and now doing this, it's just out there for everyone to see."
Watch the clip above, via MSNBC.