'I Think This Is A Big Zero': Laura Ingraham Shrugs Off Michael Flynn Sentencing Memo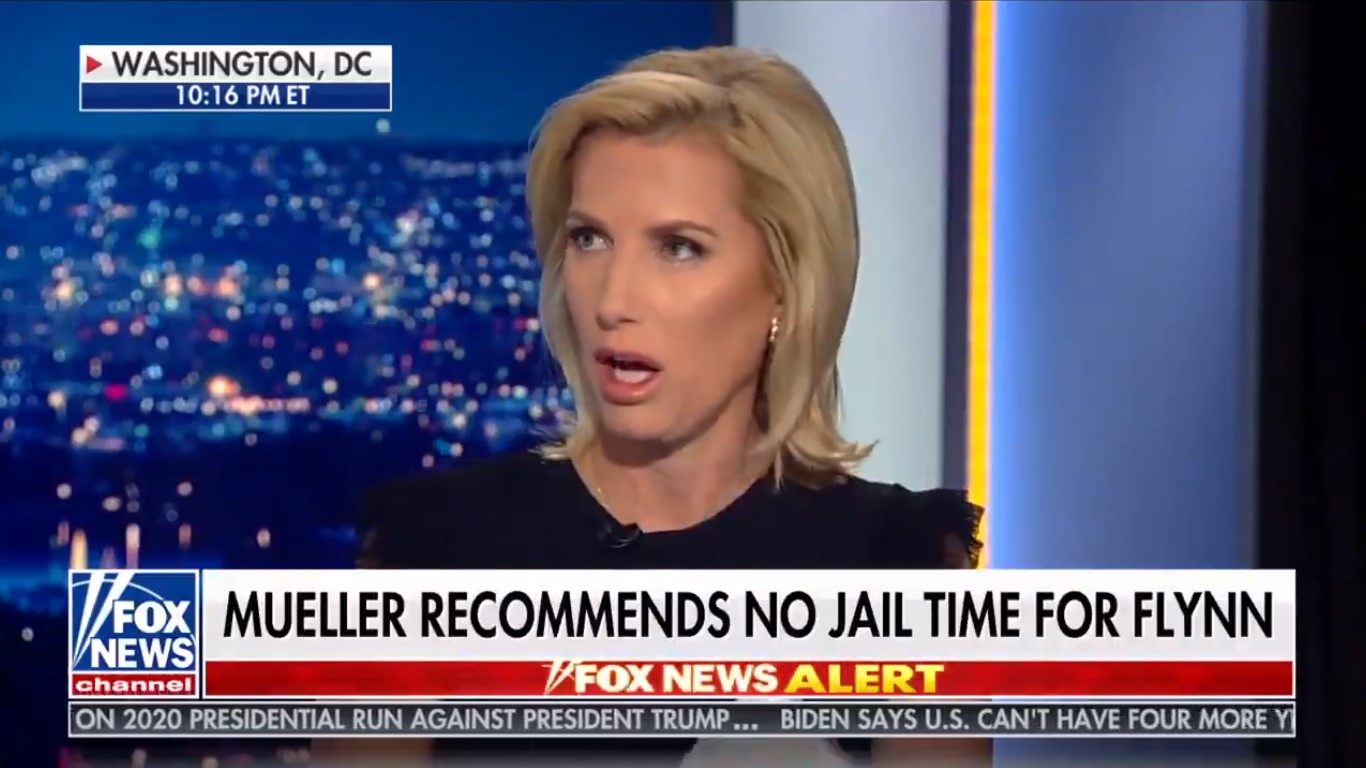 While much of the mainstream media blew up over Special Counsel Robert Mueller's recommendation that former National Security Adviser Michael Flynn receive little to no prison time due to Flynn's "substantial assistance" in a criminal investigation, Fox News' Laura Ingraham brushed it off as "a big zero" while lashing out at Mueller himself.
Bringing on former GOP congressman and current Fox News pundit Jason Chaffetz and former deputy independent counsel Sol Wisenberg to talk about Flynn and Mueller, Ingraham and her panel felt that the recommendation for no jail time didn't mean much because they claimed the guideline range for Flynn was less than six months. Ingraham pondered that the only reason Flynn is cooperating with Mueller is due to his son.
After Wisenberg said that Mueller should still be allowed to continue his investigation without getting attacked every day by the president, Ingraham said she agreed and that she tends to "look at what they produce."
"After 18 months — and you've got this guy in a vice grip for 18 months, this?" Ingraham sneered while holding up the memo. "I mean, unless those redactions are really like knock your socks off, maybe they will be…I think this is a big zero."
She continued, "I think this Mueller thing and what they did to Flynn is disgusting…What they did on the Turkey issue, which is getting almost no play tonight on the other networks, they actually cited FARA, the Foreign Agents Registration Act — what is it?"
Meanwhile, the sentencing memo notes that Flynn sat with the special counsel for 19 interviews and handed over documents and materials. Besides saying Flynn's "early cooperation was particularly valuable because he was one of the few people with long-term and firsthand insight," Mueller also wrote the "defendant's decision to plead guilty and cooperate likely affected the decisions of related firsthand witnesses to be forthcoming."
So, yeah, nothing to see here.
Koolaid is flowing https://t.co/3awPmb9uLH

— Bradley P. Moss (@BradMossEsq) December 5, 2018
Watch the clip above, via Fox News.