Fox News Guest Defends Pepper Spraying Migrant Children: You Can 'Put It On Your Nachos!'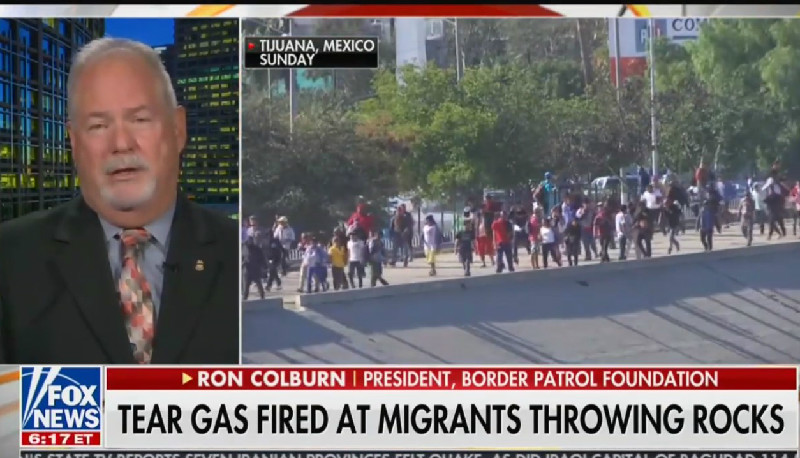 Responding to images of U.S. Border Patrol officials launching tear gas at migrant children and mothers during a chaotic weekend incident that featured hundreds of migrant caravan members rushing the San Ysidro border crossing following a protest, Border Patrol Foundation President Rob Colburn told Fox News that gassing migrants was no big deal because it was nothing more than a condiment.
Appearing on Fox & Friends this morning, Colburn was asked by co-host Steve Doocy what his thoughts were when he looked at images of migrants approaching the southern border.
"Well certainly, this particular group, the caravan, which has been well organized and supported from outside sources, has a core of violence to it that basically communicates a sense of entitlement," Colburn declared. "These are persons that one would like to think are true refugees, but they're not showing that in their actions."
Doocy expanded on Colburn's response, stating that hundreds of the migrants decided to "make a run at the border" and "hurled all sorts of rocks" at the border agents, leading to border patrol firing tear gas.
"Is that warranted?" the Fox News host asked.
"Absolutely," Colburn exclaimed. "And to clarify, the type of deterrent being used is OC pepper spray. It's literally water, pepper, with a small amount of alcohol for evaporation purposes."
He continued, "It's natural. You could actually put it on your nachos and eat it. So it's a good way of deterring people without long-term harm."
Yeah, don't put it in your nachos, folks!
As The Atlantic's Adam Serwer so aptly put it earlier this year regarding Trumpism, the "cruelty is the point."
Watch the clip above, via Fox News.