Former Facebook Security Chief: Russia Could Target Democratic Presidential Primaries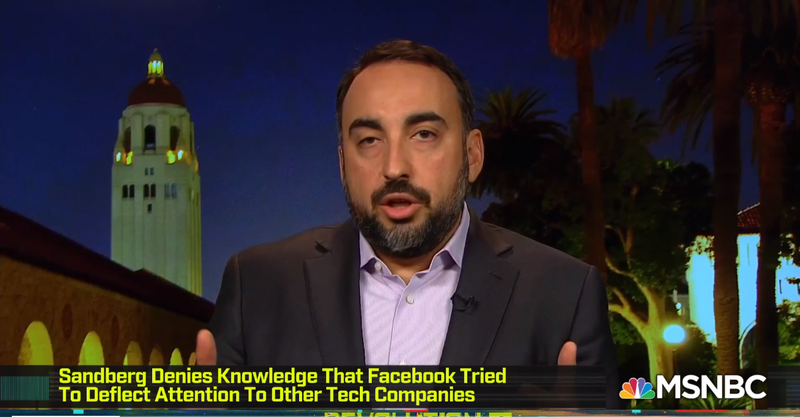 Russia could target the Democratic presidential primaries in 2020, according to former Facebook chief security officer Alex Stamos. In his first TV interview, Stamos told MSNBC's Revolution that Facebook had to make serious changes ahead of upcoming elections.
MSNBC host Kara Swisher asked about the 2020 election and whether the people in charge at Facebook will learn the lessons fro previous years.
"So, I see the people who are most responsible for a lot of the issues Facebook is facing is that the team that has driven growth and engagement online," Stamos said. "And we have to, in the valley, if we're going to measure these positive uses of platform, we also have to measure all the downsides, and use those metrics to change how we build these products."
"And you're right, the 2020 election, it sounds like it's a long way away," he said. "I know everybody is still exhausted from the midterms. But the truth is the Democratic primary has effectively started and if you look at the last set of accounts that Facebook has taken down, they're mostly on Instagram and many of them aim left. If you read the tea leaves on what the Russians might be interested in, it might be getting involved in the Democratic primary very, very quickly. So, we can't wait a long period of time before we address these issues."
Swisher asked if Facebook is ready to handle 2020, when President Donald Trump will be up for re-election. Facebook was a key tool for Russia during the 2016 presidential election, with investigations into Russian interference still ongoing.
"Like the truth is, is that Mark [Zuckerberg] cares a lot about his reputation, the reputation of the company," Stamos said. "And I think that's actually one of the benefits of having a founder-led company is he is not responsive to the short term whims of Wall Street, because the truth is, the things Facebook is going to have to do is going to cost a lot of money."
"They're going to make less money from growing slower. And they're going to spend a lot of money fixing these problems. And so, I do think that they're engaged on it. The real question is, is can they move fast enough with the bad guys? Because, you know, what things happen on Facebook at any moment, that's a constant moving target."
The race for the 2020 Democratic nomination has not officially begun, but several potential candidates have already emerged, including prominent senators, former Vice President Joe Biden and several other high profile figures who have a chance to defeat Donald Trump.