Tucker Carlson Continues To Falsely Accuse CNN Of Blackmailing Reddit User Over Anti-CNN Meme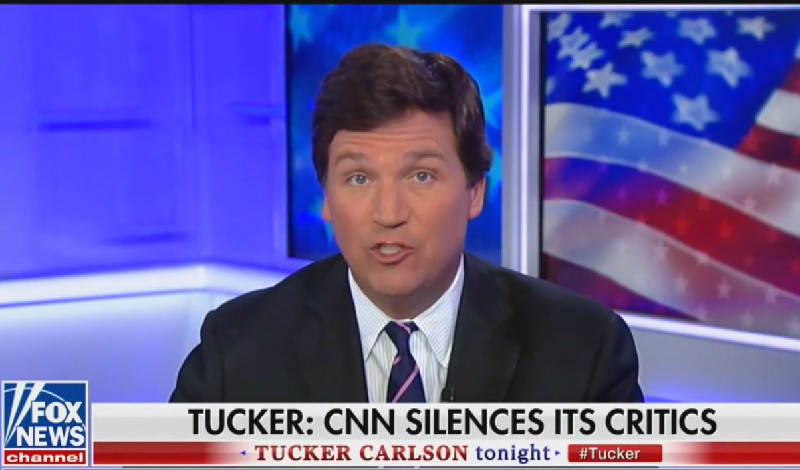 During his primetime broadcast last night, Fox News host Tucker Carlson ranted about CNN in the wake of the network's lawsuit — a suit Fox News supports — against the White House for pulling Jim Acosta's press credentials, calling the rival channel — and his one-time home — one of free speech's "greatest enemies."
Besides slamming the network's reporting on far-right conspiracy theorist Alex Jones that helped lead to Jones' social media de-platforming — something that deserves its own write-up — Carlson resuscitated a false charge that CNN had threatened to out a Reddit user who made an anti-CNN meme if the person decided to criticize the network in the future.
"But CNN was not done trying to silence its critics," Carlson declared. "Last year, they threatened an anonymous Reddit user for creating an anti-CNN meme. CNN threatened to expose his identity and ruin his life if they were ever criticized by him again."
In July 2017, shortly after KFILE's Andrew Kaczynski wrote a story on the origins of a gif showing Trump wrestling CNN that the president tweeted out, Carlson said that the network "announced that if the naughty internet guy in question ever got naughty on the internet again, for example, I don't know, by criticizing CNN, then they would release his name, which, by their own description, might imperil his life which, to a lot of people, seemed pretty much like blackmail."
The issue Tucker and others had with the story stemmed from the following passage in the piece that explained why CNN was not publishing the user's name:
CNN is not publishing "HanA**holeSolo's" name because he is a private citizen who has issued an extensive statement of apology, showed his remorse by saying he has taken down all his offending posts, and because he said he is not going to repeat this ugly behavior on social media again. In addition, he said his statement could serve as an example to others not to do the same.
CNN reserves the right to publish his identity should any of that change.
However, this was a situation where network higher-ups added language that critics saw as explicitly threatening blackmail, but they targeted Kaczynski because it was under his name. The explanation was much more mundane, falling under the network trying to offer a reasoning that may have come across clearer if a journalist had written it. Gizmodo reported on this controversy last year, noting the following:
Kaczynski and his KFILE colleagues, the sources said, had begun the investigation in hopes of determining the exact journey that HanAssholeSolo's GIF had taken from Reddit to President Trump's Twitter. They were especially curious about what role the White House's social media director, Dan Scavino, may have had in finding and distributing the clip—wanting to know if HanAssholeSolo had been in contact with Scavino, and if so, who had initiated it.
Ultimately, CNN found no cooperation between HanAssholeSolo and Scavino. The fact that the Trump administration had plucked this particular user out of obscurity, without his permission, made the decision not to name him a simple one, these people said.
But readers took the passage about the decision to mean that CNN had only granted HanAssholeSolo anonymity because of the apology. Even while CNN was startled by the reaction, some employees privately agreed that Davis's language, about "CNN reserv[ing] the right" to name HanAssholeSolo, read as threatening. At the same time, according to the sources, CNN's executive leadership resisted calls to remove the passage or clarify its meaning. Their reasoning: Any edits or changes to the article itself would suggest CNN had done something wrong, which would only embolden its army of enemies, many of whom believe the network is hopelessly biased against Trump.
CNN would later release a statement explicitly noting that they did not blackmail or coerce the Reddit user in relation to the story. Kaczynski also stated at that time that he spoke with the user on the phone after the article went up and the user said he "was not threatened in any way." But this did not stop some of the original critics from continuing the accusations against CNN and Kaczynski, something that the KFILE reporter revealed has resulted in death threats.
A day after Tucker's segment, Kaczynski blasted him on Twitter, saying that the conservative commentator had decided to "go with a conspiracy theory" and had never reached out to him for comment. He also noted other conservatives had either apologized for spreading the falsehoods about him or promised not to cover the story.
Last year @TuckerCarlson spread lies about me when my family was getting death threats and had to flee our home. He did so again last night. He never reached out for comment either time. https://t.co/GU95xoBEmJ

— andrew kaczynski (@KFILE) November 15, 2018
Rather than following reporting, Carlson decided to go with a conspiracy theory. Inexcusable https://t.co/P7FcrXTlfI pic.twitter.com/zBCLoIqkjG

— andrew kaczynski (@KFILE) November 15, 2018
Last year Carlson spread outright falsehoods about it. The entire segment was based on a lie. But he also spread outright falsehoods saying we spent "a ton" of time and money on it for vengeance when we were doing a story on Dan Scavino.https://t.co/R2q570qyOx

— andrew kaczynski (@KFILE) November 15, 2018
Carlson never reached out to me. Neither did his staff. @seanhannity for instance, told me he was sorry for what my family was going through and said he wouldn't cover it. He didn't and asked if I needed security help.

— andrew kaczynski (@KFILE) November 15, 2018
Some like @Cernovich apologized to me – which I have accepted and moved on from. He has even corrected others. https://t.co/jyi8PlfPts

— andrew kaczynski (@KFILE) November 15, 2018
The question for me, why is @TuckerCarlson allowed to spread debunked claims about a rival network without reaching out for comment? @Suzannescott @jayawallace

— andrew kaczynski (@KFILE) November 15, 2018
In the end, Tucker continues to push not only a blatant falsehood — something he hasn't even attempted to verify from Kaczynski — but a dangerous smear that has resulted in the CNN reporter facing repeated threats. A week after Carlson received widespread sympathy across the ideological spectrum after anti-fascist activists protested at his personal residence when only his wife was home, one would think he would be a little more careful about resurfacing this insidious lie considering the real-life damage it's done.
Watch the clip above, via Fox News.