Fox's Judge Napolitano On CNN Lawsuit: They Have A 'Very Good Case' Against White House, Should 'Prevail'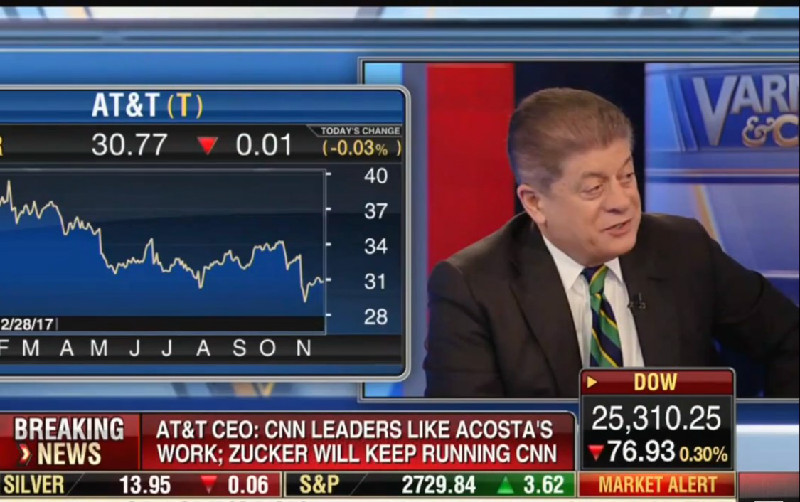 While many Fox hosts and commentators have sided with the White House over its decision to revoke CNN correspondent Jim Acosta's press credentials following a contentious exchange at a Trump presser, Fox News senior judicial analyst Judge Andrew Napolitano noted that the administration doesn't have much of a leg to stand on now that CNN has filed a lawsuit.
Appearing on Fox Business's Varney and Co. shortly after CNN filed its complaint demanding Acosta's press pass be immediately reinstated, Napolitano broke down CNN's argument. As he put it, CNN is claiming the president doesn't like Acosta because of his speech and that the reporter's credentials were taken away without any due process.
"The only grounds for revoking the pass are — is the person a danger to the physical security of the president and his family?" Napolitano observed. "Obviously, Acosta may have been an irritant to the president but he was hardly a danger to him. So I think CNN's got a very good case."
He continued, "I think this will be resolved quickly. I don't expect a jury trial. I think it will either be settled or CNN will prevail on motion."
Napolitano further noted that the lawsuit contained "Madisonian language" about free speech that he just absolutely loves before once again highlighting why the administration would fail in court.
"Believe it or not, Acosta would be entitled to a hearing they would have to show which rule he violated," he declared. "The only rule that has anything to do what he did, was he a danger to the president or the president's family. Obviously not."
Watch the clip above, via Fox Business.