Did Tucker Carlson Exaggerate And Embellish The 'Violent Mob' Attack On His House?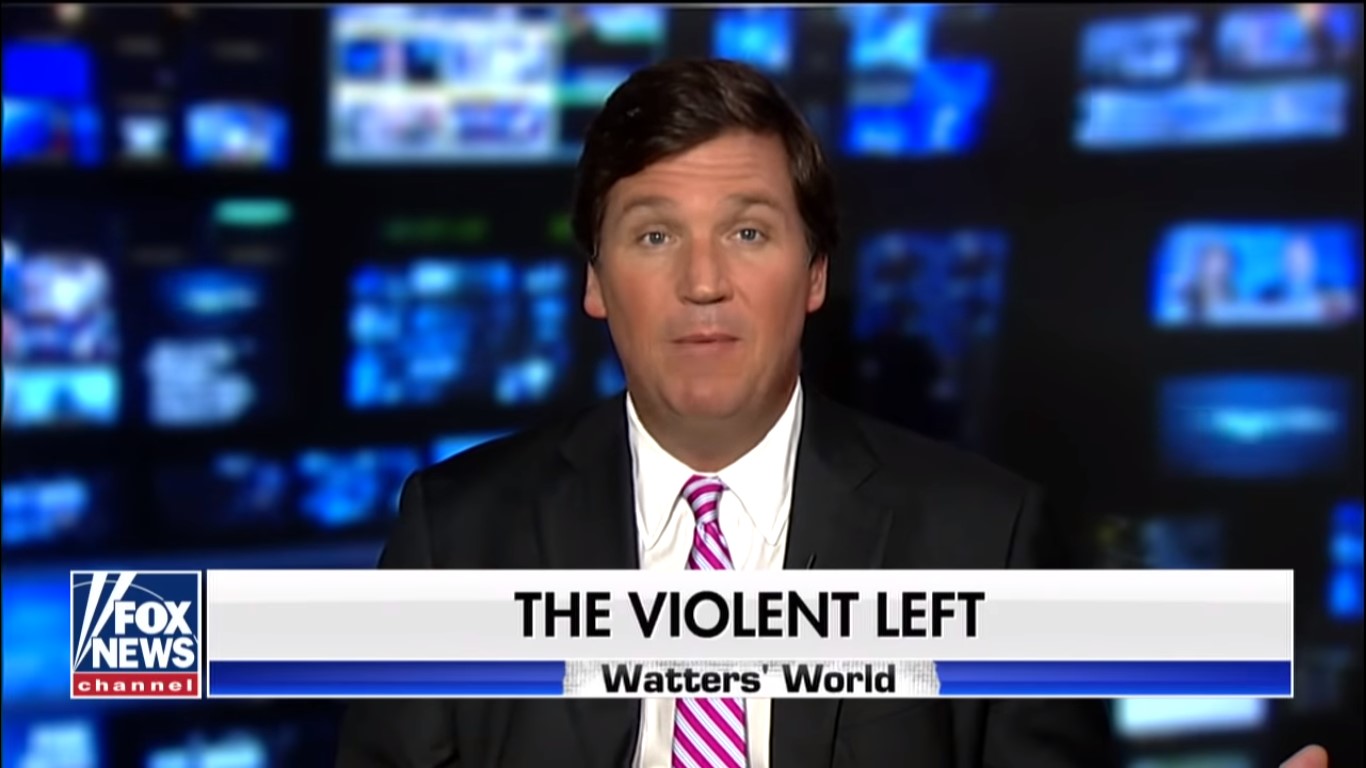 Over the past few days, there has been a massive outcry from media personalities and outlets across the spectrum over the demonstration by anti-fascist protesters outside Fox News host Tucker Carlson's home on Wednesday night. Following the incident — which the activists said was to protest Carlson spreading "fear into our homes" with his rhetoric on immigrants and minorities — Fox News chiefs Suzanne Scott and Jay Wallace issued a joint statement calling the protest "reprehensible" while ex-Fox News colleague Megyn Kelly described it as a "stomach-turning" event that Tucker doesn't deserve.
Speaking to the Washington Post after the incident, Carlson — who was not at home at the time — said someone "started throwing himself against the front door and actually cracked the front door," causing his wife to call 911 and hide in the pantry. He also claimed that a woman in the group was overheard in a since-deleted social media video that she wanted to "bring a pipe bomb" to his house. "It wasn't a protest. It was a threat," he noted.
In the aftermath of the protest at his personal residence, police have opened an investigation into a possible hate crime, citing a number of political signs the group carried with them that night and the spray-painting of an anarchy symbol on Tucker's driveway. Twitter has also suspended Smash Racism D.C.'s Twitter account after pulling down some videos and posts in which they shared Carlson's personal information — they doxxed him — and said they would confront fascists "at their homes." Facebook also took down some posts but allowed the group's page to stay up.
But is it possible that the rest of the media was misled over the severity of the threats and violent actions by the Antifa protesters? According to a ThinkProgress reporter who was present at the time of the demonstration, the Washington Post and the police report itself, that may just well be the case.
In a detailed account of the protest, ThinkProgress's Alan Pyke stated that a little more than a dozen protesters stood outside of Carlson's house, armed with a megaphone and tambourine. (It should be noted that ThinkProgress is a liberal media outlet that has been extremely critical of Carlson and Fox News as a whole.)
Per Pyke, the demonstration lasted for roughly 10 minutes. One of the protesters "knocked firmly on Carlson's front door three times" but "did not throw their body against the door," as Carlson claimed. The police report of the incident did not mention a cracked door.
The Post's Erik Wemple and Drew Goins went to the house the following day to document the property damage done by the protesters. They photographed the spray-painted anarchy symbol on the driveway but saw no apparent damage to the front door.
From the Post's article:
But there's no mention of a cracked door in the police report. The Erik Wemple Blog asked a department spokesperson whether the police had found a broken door or whether such a detail would be included in the report. "Officers take down as much information as possible," said the spokesperson, speaking generally about the process.
[…]
A woman answered the door at Carlson's home. We asked her whether the door had suffered a crack. She took a quick look and shrugged her shoulders, as if to signal that it looked okay. She declined to allow us to photograph it from inside the house.
Wemple — who has feuded with Carlson for a while now — also noted that they reached out to Carlson to see if he could provide a picture of the crack but did not get a response.
As for Carlson's claim that one of the protesters said they would return to his house with a pipe bomb, Pyke noted that the person filming the video shared by Smash Racism D.C. was heard saying "Pipe bombs! Synagogue victims!" This is, of course, an obvious reference to 'MAGAbomber' Cesar Sayoc and anti-Semitic far-right synagogue shooter Robert Bowers, with the protesters tying Carlson's nightly criticism of the mainstream media and immigration to those right-wing domestic terrorists.
Meanwhile, the police report makes no mention or references "pipe bomb."
One other instance of possible embellishment from Tucker is his claim that the demonstrators outside his home "weren't protesting anything specific that I had said" or "asking me to change anything." The group, however, specifically referenced his highly critical coverage of the migrant caravan, a subject that seemed to be the tipping point for Bowers after President Trump and conservative media obsessively fearmongered over the Central American refugees slowly making their way through Mexico.
Besides issuing a statement denouncing the actions of the far-left activists, it has been rumored that Fox News is silently protesting Twitter over how it handled the posts targeting Carlson. The Fox News Twitter account has refrained from tweeting out anything since Thursday, though other Fox-related accounts have been tweeting. Another report says the non-tweeting is a "conscious decision in light of what was done to Tucker," with a source suggesting "Twitter was fostering a dangerous climate that resulted in threats against Fox News employees."
In the end, this isn't to make light of the fact that a group of protesters frightened Carlson's wife at their private residence to the point where 911 was called. But it does appear that the breathless coverage of a violent mob threatening Carlson and his family's lives was more than a bit of a reach, specifically based on Carlson's own exaggerations.
Mind you, Carlson has devoted endless on-air coverage to a narrative that the left is completely out of control and extremely violent. So it would behoove him to frame a protest in front of his house as far more extreme than it really was.
A group of roughly a dozen that spent a few minutes chanting outside his house and was allowed to walk away by police? Not that big of a story. A crazed mob of Antifa supersoldiers threatening to blow him up while busting his door in? Well, that's enough to fuel an outrage cycle for weeks while engendering sympathy on an indefinite basis.