Seb Gorka: There's A 'Direct Line Between Jim Acosta's Behavior' And Protest At Tucker's House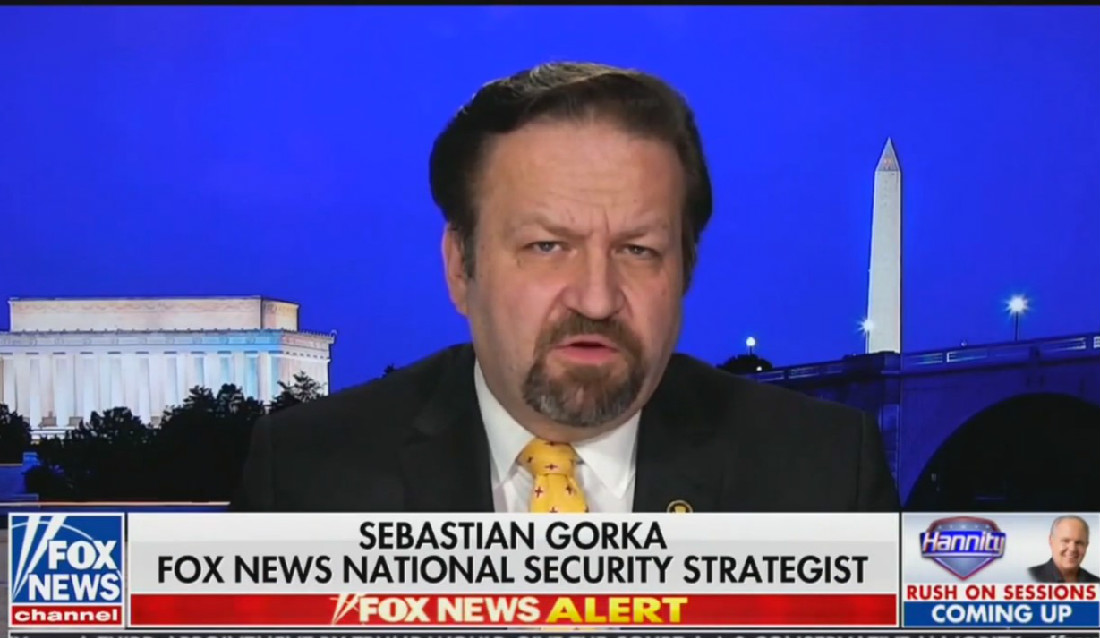 With much of the news centered on the White House banning CNN's Jim Acosta and anti-fascist protesters targeting Fox News' Tucker Carlson at his home, Fox News contributor Sebastian Gorka found a way to combine the two stories — blame Acosta for the Tucker incident.
Appearing on Hannity tonight along with fellow Sean Hannity Expanded Universe member Dan Bongino to talk about Antifa showing up at Carlson's house, the Dragon of Budapest pointed the finger at Acosta and how he acted at Wednesday's Trump press conference.
"There is a direct line between Jim Acosta's behavior at that press conference and what happened at our friend Tucker's house," Gorka said. "These people are repeatedly crossing the line of what is acceptable."
After right-wing media falsely claimed after the presser that Acosta physically assaulted a female intern when she tried to grab the microphone from him, White House Press Secretary Sarah Huckabee Sanders revoke Acosta's hard pass and cited a manipulated video from InfoWars to justify her decision.
Gorka continued, "Whether you are a reporter in the White House or whether you are a demonstrator in D.C., they are undermining or they are broadening what is called the Overton window, meaning the list of things that are deemed acceptable. This behavior — Jim Acosta's behavior — the behavior at Tucker's house, would have been deemed absolutely unacceptable just two years ago."
Meanwhile, in a true galaxy brain take, Hannity jumped in to note that while the left is truly out of control with its calls to action and rhetoric, the president and his supporters calling CNN "fake news" and the "enemy of the people" is not incitement because "those are words."
It has been less then a month since a crazed Trump superfan mailed out over a dozen pipe bombs to prominent Democratic Trump critics and CNN. Also, an Arkansas man was arrested this week for making dozens of threatening calls, including death threats, to CNN anchor Don Lemon.
Watch the clip above, via Fox News.