An Exasperated Anderson Cooper Wonders Why Katrina Pierson Has 'To Lie All The Time'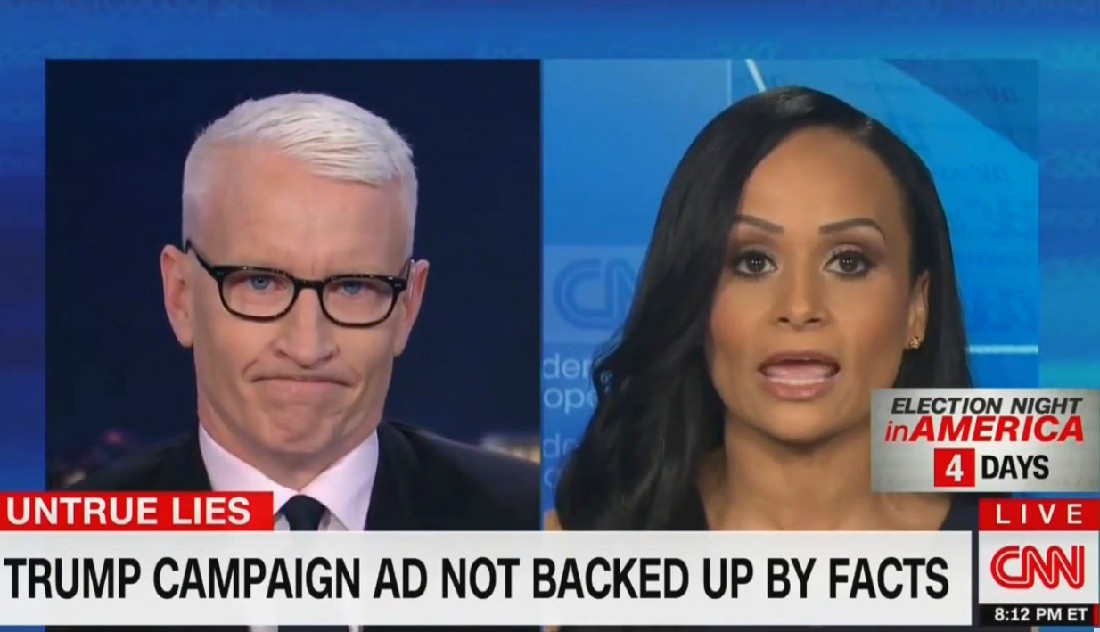 During an infuriating and excruciating interview Friday night, CNN anchor Anderson Cooper eventually broke down and told Trump 2020 campaign adviser Katrina Pierson that he didn't understand why she had to constantly lie, leading the Trump spokesperson to eventually whine about "fake news."
Pierson was invited because the campaign was responsible for putting together the blatantly racist campaign ad that President Donald Trump shared on Twitter to fearmonger on immigration days before the midterm elections. Cooper noted that the video makes many false and misleading claims, such as solely blaming Democrats for a notorious cop killer being allowed in the United States.
When Pierson said the ad was merely presenting an "extreme version" of what can happen under the current policies passed by both Republican and Democratic administration, Cooper noted that "the ad says Democrats let him in and let him say."
"That is factually incorrect," Cooper added, causing Pierson to devote the next few minutes to deflecting on the ad's content and immigration reform in general. However, even after the CNN host called her out for constantly changing the subject and inadvertently admitting their ad was false, Pierson insisted that was absolutely not the case.
"You are using words which show you can't back up your own ad," he told her at one point after she said the ad supported the "same nature" of Democrats supposedly walking away from an immigration compromise.
"I am explaining it to you right now," she said in response. "I am not understanding what you don't understand."
Anderson then tried to break it down like you would a child.
"Let me just ask specifically as I have been trying to do," an exasperated Cooper stated. "You said Democrats allowed him in and Democrats allowed him to he was deported on under Democrats, and he was also deported under Republican. Your ad could just as easily say Republicans allowed him in, Republicans allowed him to stay. Or you can say democratic and Republican administrations allowed him and allowed him to stay. That wouldn't be accurate, because he fell through the cracks. But that's not what the ad says. It is misleading, yes?"
After she said it was "relevant" to today's situation, Cooper interjected and told her that "doesn't make sense." Pierson, undeterred, once again said Democrats' actions allowed the killer to stay in the country before complaining that Democrats don't want to work with Trump on immigration reform.
"Sometimes he is committing crimes, sometimes he is in jail, sometimes he is not. Sometimes he has been apprehended," he sighed. "There have been Republicans in Congress. All this time they have failed to come up with any kind of comprehensive plan. You could argue that allowed this guy to stay in the country. That would be closer to the truth than your ad, which is just lying. And I don't understand why you have to lie all the time."
The two would go back and forth a little while longer, with Pierson claiming she was brought on to talk about the midterm elections after she changed the subject again, causing Cooper to note she was specifically invited to discuss the ad. Eventually, the Trump flack decided to emulate her boss and say this was the reason "why Americans believe that fake news is real."
"Glad we got to that," a totally done Cooper replied. "Katrina Pierson, thanks very much for not addressing the ad at all."
Watch the clip above, via CNN.