Katy Tur Perfectly Describes Jacob Wohl: 'He's Something Of A Running Joke On Twitter'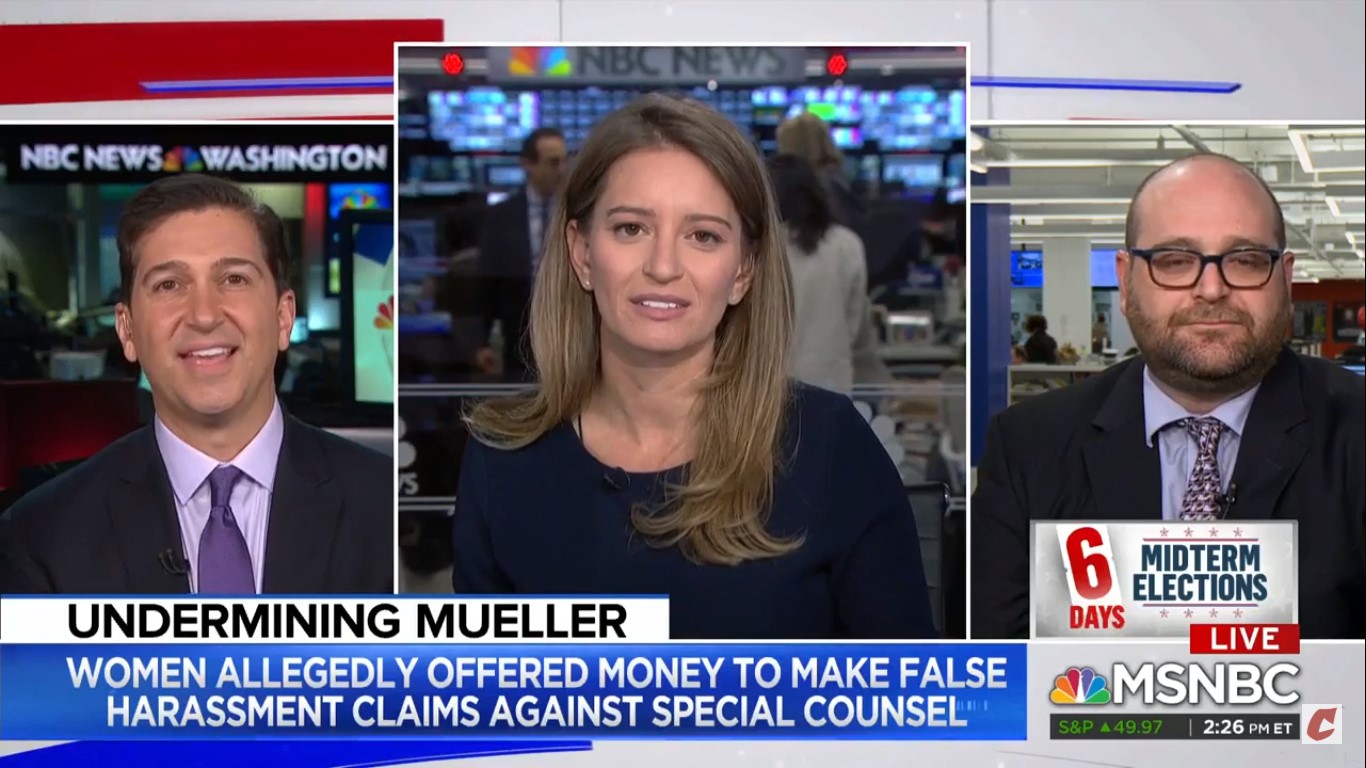 Tuesday brought the out-of-left-field news of a smear attempt against Special Counsel Robert Mueller that would feature women coming forward and accusing the former FBI director of drunken sexual harassment and assault. The campaign spectacularly blew up in the faces of the two fame-hungry right-wingers who apparently concocted the idiotic plot: Republican lobbyist and Seth Rich conspiracist Jack Burkman and 20-year-old pro-Trump Twitter personality Jacob Wohl.
With numerous mainstream outlets reporting on the dumb scam that has possibly landed these two grifters in legal hot water, MSNBC's Katy Tur hosted a segment on Wednesday to break down the whole thing. And she helpfully provided her viewers with the perfect description of Wohl.
After reporter Ken Dilanian said it was still unclear if this was a scheme to get the mainstream media to cover disinformation or if it was a legit attempt to smear Mueller, Tur played a clip of law professor Jennifer Taub, who received an email from the crew trying to get her to speak out against Mueller (who she has never met).
"They put it in writing which is usually the first rule of if you're trying to do something criminal, you don't put it in writing," Tur noted. "I guess that's just me who thinks that."
She then turned her attention directly to Wohl.
"If anybody is on Twitter, they will probably know him from his interesting tweets talking about a hipster coffee shop in L.A. where he heard these young Democrats saying how much they secretly like Donald Trump," she snarked. "He's something of a running joke on Twitter."
She ain't wrong.
The email to Taub came from Surefire Intelligence, which is essentially a fake company created by Wohl. The disgraced former hedge funder apparently created a bunch of LinkedIn profiles for employees who supposedly work at Surefire Intelligence, using photos he grabbed from the internet (including some celebrities). Meanwhile, the phone number for the company goes to Wohl's mother's voicemail.
Sooo, just how bad was Wohl's scheme? Gateway Pundit, the far-right conspiracy news site that employs Wohl as a writer, took down a document alleging Mueller raped a woman in 2010 after being mocked when it was revealed it came from Surefire Intelligence.
When you've lost Gateway Pundit…
Watch the clip above, via MSNBC.