Stephen Colbert Mocks Trump: Ali Baba And His 40 Thieves Are In The Migrant Caravan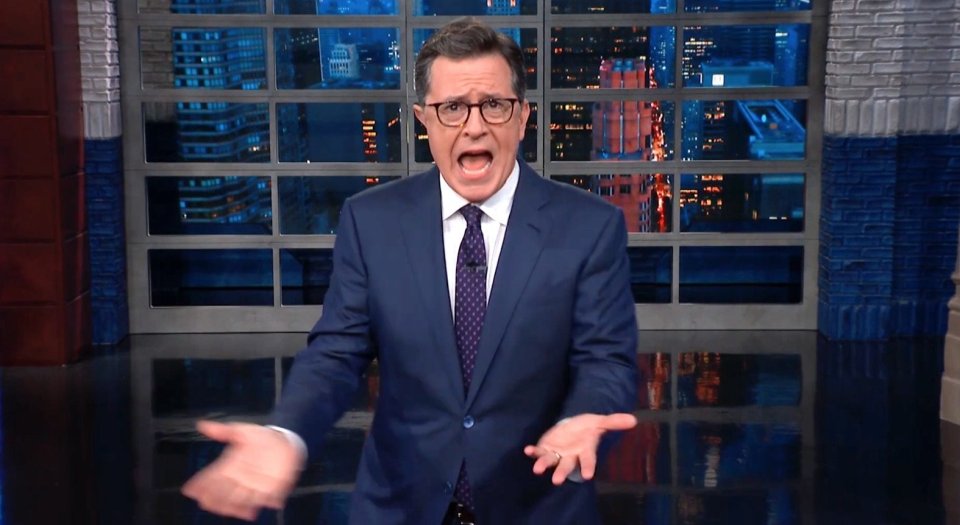 Stephen Colbert took on the issue of the migrant caravan last night. The Late Show host mocked President Donald Trump's scaremongering about those travelling in the caravan. Trump has claimed that people from the Middle East could be in the group, suggesting links to terrorism
Colbert showed a clip of Trump talking about the migrant caravan, which has become a popular subject for Republicans as the midterm elections approach. Trump talked about the caravan and appeared to be dealing invisible cards, he then asked the crowd at a rally what the caravan means.
"No, I don't know what this means," Colbert said. "Are you — are you feeding chickens? Are you– are you dealing blackjack? Oh, I know! You're spreading bullshit."
"Now, not everything Trump has said about this caravan is true," Colbert said. "For instance, any of it. Here's what Donald Trump said during yesterday's chopper talk."
Colbert then launched into his impression of Trump, which he has been perfecting on the show over the last two years.
"Yes, everything. You'll find them all in there," he said. "Ali Baba and his 40 thieves, Jafar from 'Aladdin.' And you want to know where in the world Carmen Sandiego is? She's in that caravan, and her colon is packed with balloons of heroin."
Republicans are doing their best to make the migrant caravan an election issue, with some suggesting it's funded by Democrats and/or George Soros. In reality, the caravan consists of desperate people fleeing difficult situations in their home countries.