Hannity Attacks Hillary And Maxine Waters…On Day Someone Tried To Assassinate Them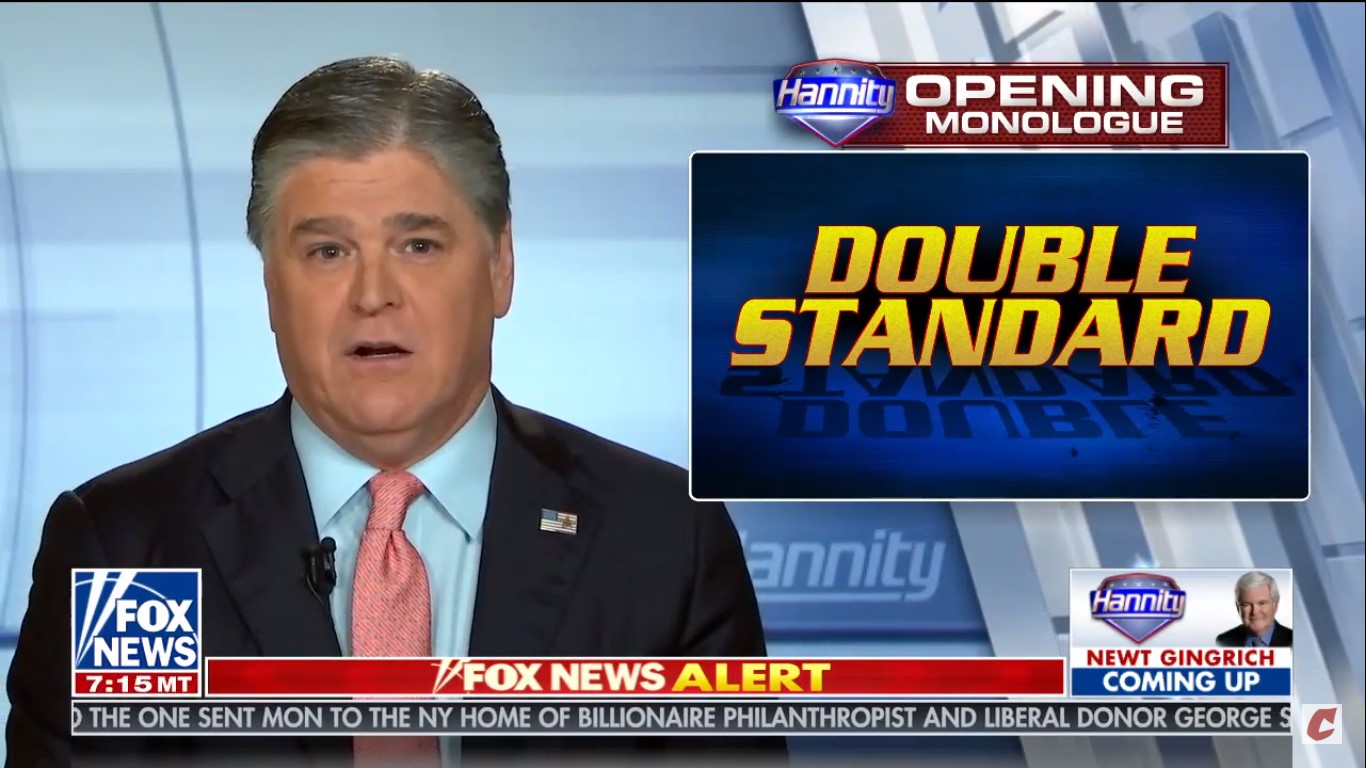 Hours after a major scare that featured a series of pipe bombs that were mailed to prominent Democrats — including two ex-presidents — and the offices of CNN, Fox News host Sean Hannity used his show's opening monologue/rant to take aim at two of the women who were targeted for assassination.
After beginning his show by saying violence "has no place in this country," Hannity focused his attention on Democrats and the media for not being satisfied with President Donald Trump's tepid response to the bomb threat. This featured Hannity insulting Jeff Zucker over his harsh statement to the White House, calling him "CNN's fake news president" and labeling his comments "beyond shameful." (CNN's New York office was evacuated due to the bomb scare.)
The White House shadow chief of staff then seemed to blame the victims while railing against the "double standard" by Democrats. While devoting a big chunk of time on supposedly hateful and violent rhetoric from the left, Hannity went after Rep. Maxine Waters (D-CA) and former First Lady Hillary Clinton over recent comments they've made that have been criticized by the right.
Yes, the same Maxine Waters and Hillary Clinton who were mailed pipe bombs earlier in the day.
"Remember Hillary Clinton, what did she say? We can't be civil with Republicans, remember this?" Hannity asked before showing clips of Clinton saying you "cannot be civil with a political party that wants to destroy what you stand for."
"Today, now she's singing a different tune after actual criminal acts against Democrats," he said. "Only if it happens against Democrats. I'm beginning to catch on here. Now she's calling for us all to come together."
(Again, she had just been the target of an explosive device!)

After bashing Hillary, Sean moved on to Waters, noting that we can't forget about when she was repeatedly calling for Republicans could be stalked, harassed, confronted and grocery stores, department stores, gas stations, tell them they are not wanted anywhere anymore."
After playing a clip of the congresswoman, Hannity accused her of hypocrisy for issuing a statement after the bomb scare saying she condemns all acts of violence and terror. He further complained about the media's "selective outrage" and called them complicit "in giving her and all of these people on the left a pass."
Waters, meanwhile, was sent two suspicious packages on Wednesday. One was intercepted in Washington. D.C. and the other was discovered in California.
Watch the clip above, via Fox News.